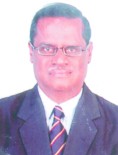 Mr. B. Balakrishnan
Vice President
Mobile No: 09842130633
E-mail id: bbcompsec@yahoo.com
Blog : blogger
Shri B. B. Balakrishnan with professional qualifications as fellow of "Institute of Company Secretaries of India" and a member of All India Management Association" along with "Bachelor of Law" has practiced in Madurai Bar as Standing Counsel and Junior Government Pleader, before joining a leading textile mill as a law officer from where he retired after 27years of service as a General Manager (Admin & Company Secretary at present he is management consultant and practicing company secretary hence an unique asset of QCFI).
After taking voluntary retirement from service in 1997, he joined QCFI – Madurai chapter as a faculty and trainer in Modern Quality Concepts like quality Circle, Kaizen, TQM, TPM, etc. and good HR PRACTICES, FACULTY IN behavior science both for manufacturing and services industries including Govt. Organisations.   He has conducted more than 1000 Programmes in Tamilnadu, Maharashtra, and Kerala State for Govt. officers & recently in Assam state.
Shri B. Balakrishnan has been elected to the Executive Board of QCFI continuously from 2007 and elected as Vice-President of the forum in 2013.  He is also presently Vice-chairman of QCFI – Madurai chapter and instrumental in starting a sub-chapter at Coimbatore.
Shri B. Balakrishnan has rendered special contribution to 5S movement by creating awareness, training and facilitating 5 S Movement by creating awareness, training and facilitating 5 S certification process after effective 5 S implementation specifically in spinning mills of textile industries apart from other manufacturing and service sector industries like BHEL, DCW, Tata Motors and Educational Institutions and Hospitals.
He has published articles on 5 S in QCFI magazines and co-authored for the Tamil version of book entitled "5-S Practical Guide book".
He is associated with other professional institutions like "Madurai Chapter of Institute of Company Secretaries", past President of NIIM and past President of "Rotary club of Tirunagar".
---