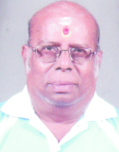 Mr. M. Sankara Subramaniam
Director
Date of Birth: 11.04.1946
Address: 11, Chockalinga Nagar, 2nd Street, Palamedu Road, Opp: Koodal Nagar Bus Stop, Madurai – 625018
Mobile No: 9443451586
E-mail id: shankerm5@yahoo.com
Shri M. Sankarasubramanian, a graduate in science with chemistry (main), M.B.A. Production Management and F.T.C in yarn production is also a Certified Lead Auditor in ISO9000-2008.  He underwent training in Industrial engineering, Value engineering, Cost reduction Industrial relations, Human Resource Development, Management development Programs on Behavioral sciences, Problem Solving Tools, and Quality Management concepts.
He has a 30 years' experience in Textile mills (1966-1996) and 19 years' experience in Training and auditing of implementation process of Quality.
He was Instrumental for starting Quality Circles in TVS Schools, then in SBOA.  He had successfully implemented Total Quality Management in several organizations such as DCW SAHUPURAM, SRI GOVINDARAJA MILLS, ARUPPUKOTTAI, SRI JAYAJOTHI & CO, RAJAPALAYAM.  He had conducted more than 2000 programs on Quality topics for Top, Middle and Junior management and first line operatives.
He had presented several technical papers on several regional and National seminars
He had conducted 25 chapter conventions on quality circle, One National convention, National conclave on 5S, 2 Kaizen Melas and was Instrumental in Madurai Chapter getting several awards at the National level. He coauthored a few books on Quality Management in Tamil for first line operatives.  He is associated with professional institutes like Life member, Quality Circle Forum of India, LIFE MEMBER OF NATIONAL PRODUCTIVITY COUNCIL and Member of NIPM.
---