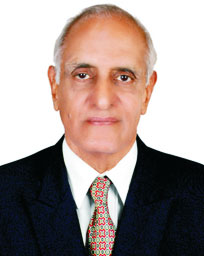 Mr. P V Satyavratan
Hon. Treasurer & Director
Mobile No: 9885333429
E-mail id: satyavratan@rediffmail.com
P.V. Satyavratan is a Physics graduate from Pune University, Electronics Engineer from Madras Institute of Technology, Madras and PGDBA holder from AIMA, New Delhi.  He started his carrier as a lecturer in Regional Engineering College Warangal (Now NIT Warangal).  He then joined IDL Industries.  He had a long stint in their R & D Department where a number of statistical tools were put to use practically.  He retired as General Manager (Works).
He is part of the quality circle movement ever since its inception in India. He was instrumental in starting and nurturing quality circles and ISO 9000 certification in his industry.
After retirement, he has associated himself with Quality Circle Forum of India as a Senior Faculty.  He has co-authored quite a few books published by QCFI namely Problem Solving Tools and Techniques, SMED, Six Sigma Approach to Organisational Excellence, TQM and TRIZ. He has trained many groups in statistics and quality related concepts. He has developed many course materials suitable to different levels.
Currently he is an elected Director on the Governing Board of Directors of QCFI and its Hon. Treasurer.
---