10th Bhilai Chapter's (CCQC 2019) from 21st to 23rd September 2019 at Shri Shankaracharya Technical Campus (SSTC), Junwani, Bhilai
September 21, 2019 @ 8:00 am

-

September 23, 2019 @ 5:00 pm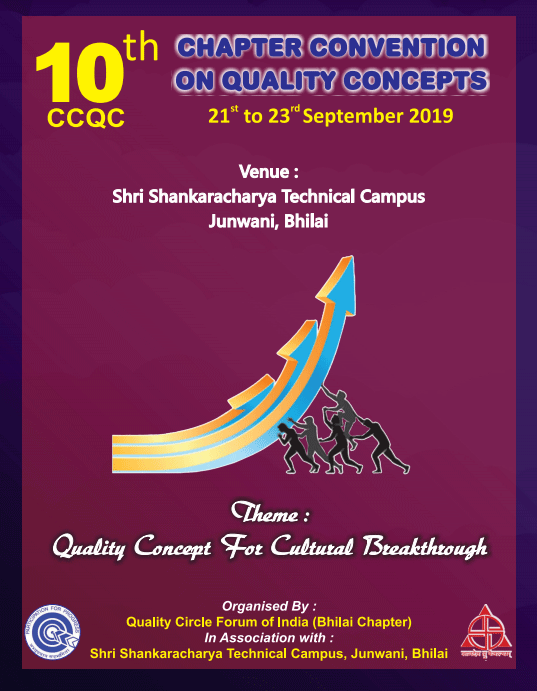 On behalf of Governing Council of QCFI Bhilai Chapter, we are pleased to inform you that 10th Chapter on Quality Concepts (CCQC-2019) is scheduled to be held from 21st to 23rd September 2019 at Shri Shankaracharya Technical Campus (SSTC), Junwani, Bhilai. As you are aware, it is basically a gathering of all industrial houses through their employees presenting their endeavor towards improvement in Quality, systems & procedures, which in turn help in improving their own systems & procedures.
Your organization being one of the important organizations known for better sense of quality & innovation and regularly participating in CCQC/NCQC events in past also. This year also we expect good number of team participation from your organization and make 10th convention a grand success story.
Please Download Brochure for your information and necessary action.
For all enquiries connected with case study presentations and participation, please contact
Quality Circle Forum of India, Bhilai Chapter
G.P. Singh, Secretary, QCFI, Bhilai Chapter
TULIP -275, Block -A, Talpuri International Colony,
Bhilai West Dist,
Dist – Durg, C.G. Pin: 49009
Phone: 0788-2860175, 9407981822 (M)
E-mail: qcfibh@gmail.com; gpsingh@sail-bhilaisteel.com
Web: https://www.qcfibhilai.in