1st Lucknow Centre Convention on Quality Concepts (LCCQC -2019) on 30th Sep & 1st Oct, 2019 at RBS Engineering College, Agra.
September 30, 2019 @ 8:00 am

-

5:00 pm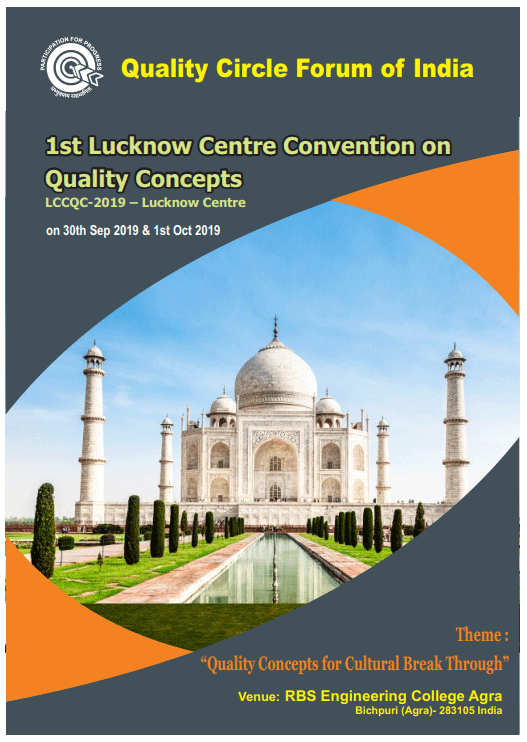 The Chairman and Members of Governing Council of QCFI- Lucknow Centre have great
pleasure in extending a cordial invitation and warm welcome to the participants for 1st Centre Convention on Quality Concepts.
Theme: Quality Concepts: "Quality Concepts for Cultural Break Through"
Date: 30th September & 1st October, 2019
Venue: RBS Engineering College
For more details Download complete LCCQC 2019 brochure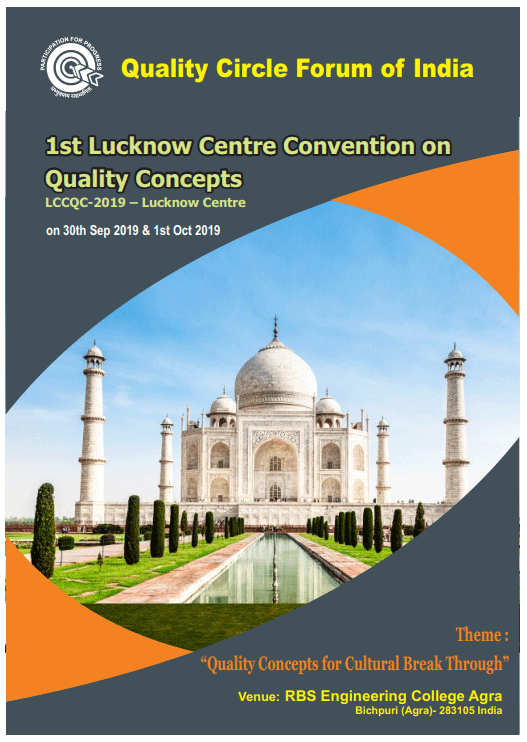 Entrepreneurs carry out their business to fulfill the needs of the society with their products and services to the satisfaction of customers. Total Quality Management (TQM) is a journey in search of excellence to stay on the top of competition. TQM focuses on Total Employee
Involvement (TEI) for creating quality products and services. Continuous improvement in
manufacturing goods and services is essential to maintain competitive edge. Apart from
improvements the need of the hour is to ignite the minds of employees in the organization at all levels including the shop floor first line people to enhance their creative and logical thinking process. The convention theme is very much appropriate to the needs of world class management and global competition.
Our Quality Circle convention gives an opportunity for the employees to show case their
achievements in their respective organizations. We request all our individual and institutional members to participate and benefit from this great event of LCCQC-2019 Convention and make it a grand success.

Eligibility – Only QCFI Member Organization Can Participate Case Studies should pertain to the period September 2018 to August 2019. Case studies not pertaining
to this period can be presented provided they have not been presented at any Chapter / National Convention. However, Non-members (Institutional) of QCFI may also nominate teams for competitive presentations provided they enroll as Members immediately by submitting membership applications obtainable from QCFI Office or by downloading from QCFI-Website www.qcfi.in
CCQC 2019 Lucnow Center Online Registration: Teams are requested to register teams for CCQC 2019 Lucknow center at https://qcfi.in/qcfihq
For more details Download complete LCCQC 2019 brochure
Contact Address:
Quality Circle Forum of India-Lucknow Centre
Mr. Shailendra Kumar-9873912895
Quality Circle Forum of India-HQ
Mr.VKB Das-9392386443,
Addl. Director (T&D) 040-66311168,98481-28732
Email: trgqchq@gmail.com