2nd Virtual Competition on Kaizen, POKA-YOKE, SMED, Low Cost Automation (LCA) from 20th to 23rd April 2022
April 20 @ 9:00 am

-

April 23 @ 5:00 pm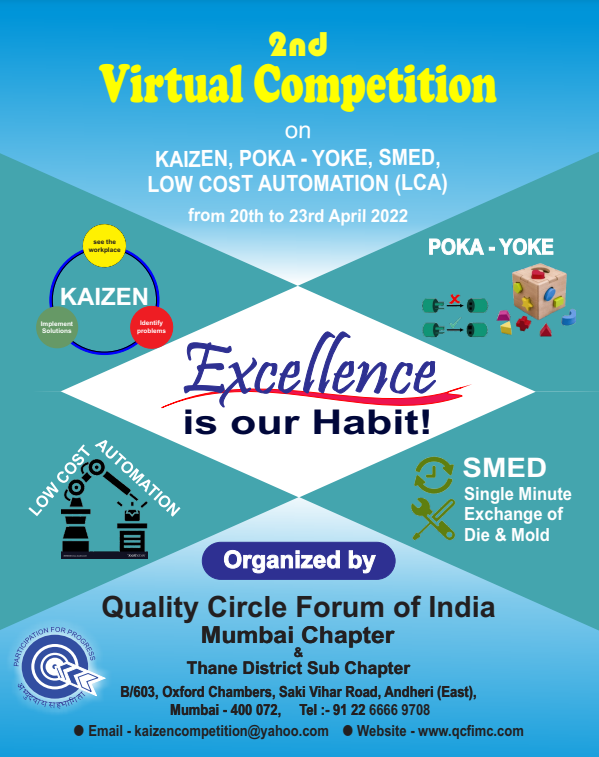 2nd Virtual Competition on Kaizen, POKA-YOKE, SMED, Low Cost Automation (LCA)
from 20th to 23rd April 2022 by QCFI Mumbai Chapter & Thane District Sub Chapter.
QCFI Mumbai Chapter/Thane Sub chapter continue to support organizations in their continual improvement journey by conducting the 2nd Virtual Kaizen Competition – 2022 in April 22. In these challenging times it is important to reduce losses and wastages. Many organizations started to focus on loss and wastage reduction, Changeover/Setup Time reductions, Elimination of defects, adapt to Automation at No or low cost.
To encourage organizations we have planned our 2nd Virtual competition on Kaizen, SMED, POKA – YOKE, LCA (LOW COST AUTOMATION) from Wednesday, 20th to Saturday 23rd April, 2022
For more details on the competition – download brochure
Contact details:
QCFI Mumbai Chapter, Phone: 22-66669708
Email: Kaizencompetition@yahoo.com web: www.qcfimc.com