QCFI CHENNAI CHAPTER's SILVER JUBILEE CONVENTION CCQCC-2016
September 10, 2016 @ 8:00 am

-

September 11, 2016 @ 6:00 pm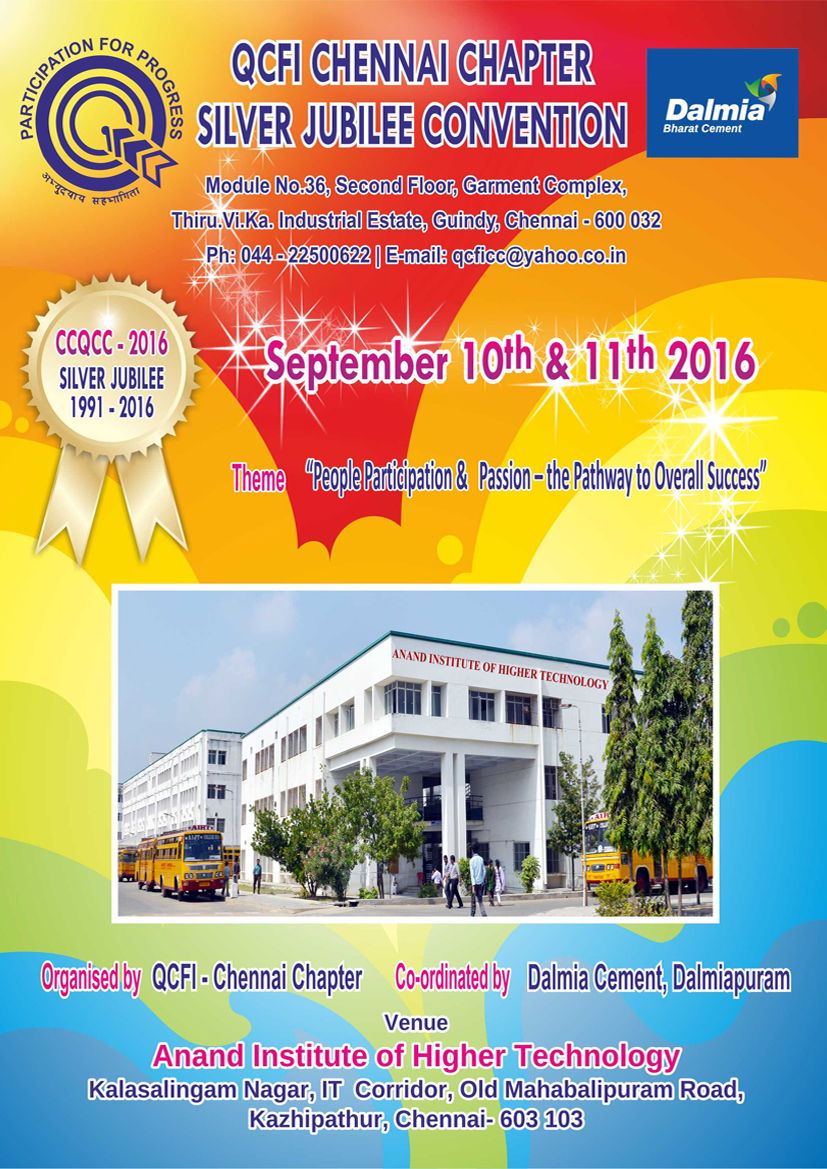 Date: 26.06.2016
QCFI CHENNAI CHAPTER's SILVER JUBILEE CONVENTION  CCQCC-2016
Theme: : "People Participation & Passion – the Pathway to Overall Success"
We are pleased to inform that QCFI Chennai Chapter is conducting it's Silver Jubilee Convention on Quality Circles "CCQCC – 2016" on Saturday 10th and Sunday 11th September 2016 at Anand Institute of Higher Technology, Kalasalingam Nagar, IT Corridor, old Mahablipuram Road, Kazhipattur, Chennai- 603103.
The various events of the Convention are:
QC Case Study Presentation                                      –  Team (minimum 5 members)
Poster Competition                                                    –  Individual
Poem and Slogan Competition                                   –  Individual
Quiz                                                                         –  Team (2 Members)
Debate                                                                     –  Team (2 Members)
Kaizen Competition                                                   –  Team (2 Members)
Registration Fees for a team of 5 Members including Facilitator and coordinator or less than 5 members is Rs.10000 + 15 % ST. For additional member in the team is Rs.2000 +15 % ST.
Registration fee for a delegate is Rs 2000 + 15 % ST per person.
Last date for team registration and nomination for other events is 3rd September 2016.
For Life members of QCFICC, 25% concession is allowed in registration fee and they have to pay Rs 1500/- plus 15% ST (i.e. Rs. 1500 + 225/-)
This advance information is being sent to you to get the necessary management approval for nominating teams and prepare the teams for this mega event.
We seek your support and co-operation to serve you better. The brochure will be sent to you shortly.
Thanking you,
Yours faithfully,
S.Murugan
Coordinator- CCQCC 2016                                                   Prof.C.Uthayakumar
Joint Secretary,                                                                  QCFI CC Secretary, QCFI CC