Workshop on Advance Problem Solving Tools on 22nd July 2021 by QCFI Vadodara
July 22 @ 9:00 am

-

5:00 pm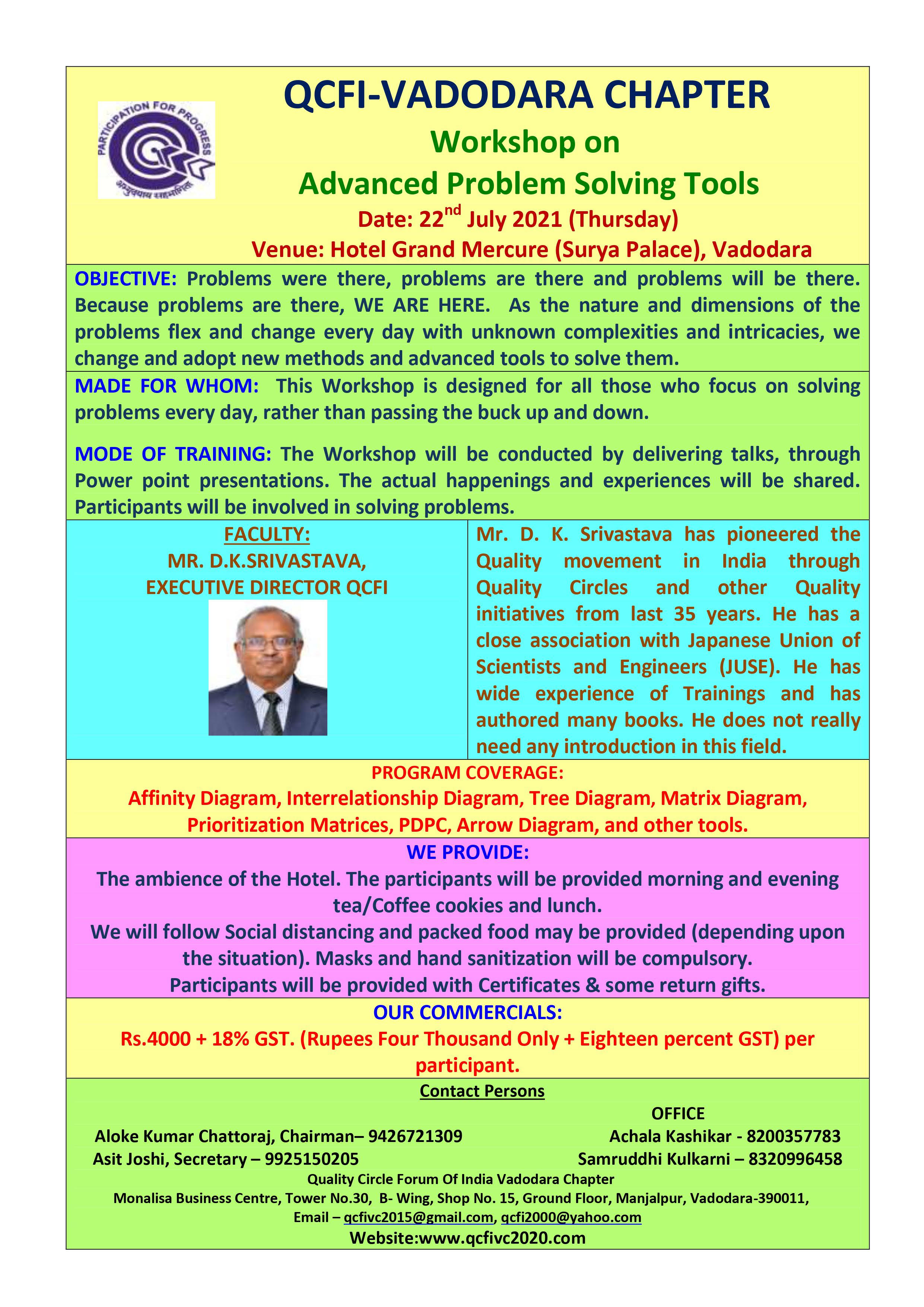 OBJECTIVE: Problems were there, problems are there and problems will be there. Because problems are there, WE ARE HERE. As the nature and dimensions of the problems flex and change every day with unknown complexities and intricacies, we change and adopt new methods and advanced tools to solve them.
MADE FOR WHOM: This Workshop is designed for all those who focus on solving problems every day, rather than passing the buck up and down.
MODE OF TRAINING: The Workshop will be conducted by delivering talks, through Power point presentations. The actual happenings and experiences will be shared. Participants will be involved in solving problems.
FACULTY: Mr. D. K. Srivastava has pioneered the Quality movement in India through Quality Circles and other Quality initiatives from last 35 years. He has a close association with Japanese Union of
Scientists and Engineers (JUSE). He has wide experience of Trainings and has authored many books. He does not really need any introduction in this field.
PROGRAM COVERAGE:
Affinity Diagram, Interrelationship Diagram, Tree Diagram, Matrix Diagram, Prioritization Matrices, PDPC, Arrow Diagram, and other tools.
Fee Structure:
Rs.4000 + 18% GST. (Rupees Four Thousand Only + Eighteen percent GST) per participant.
CONTACT:
Aloke Kumar Chattoraj, Chairman– 9426721309 Achala Kashikar – 8200357783
Asit Joshi, Secretary – 9925150205 Samruddhi Kulkarni – 8320996458
Quality Circle Forum Of India Vadodara Chapter
Monalisa Business Centre, Tower No.30, B- Wing, Shop No. 15, Ground Floor, Manjalpur, Vadodara-390011,
Email: qcfivc2015@gmail.com, qcfi2000@yahoo.com
Website: www.qcfivc2020.com