18th Chapter Convention on Quality Concepts (CCQC – 2019) by QCFI Rajsamand Chapter on 15th, September 2019
September 15, 2019 @ 8:00 am

-

5:00 pm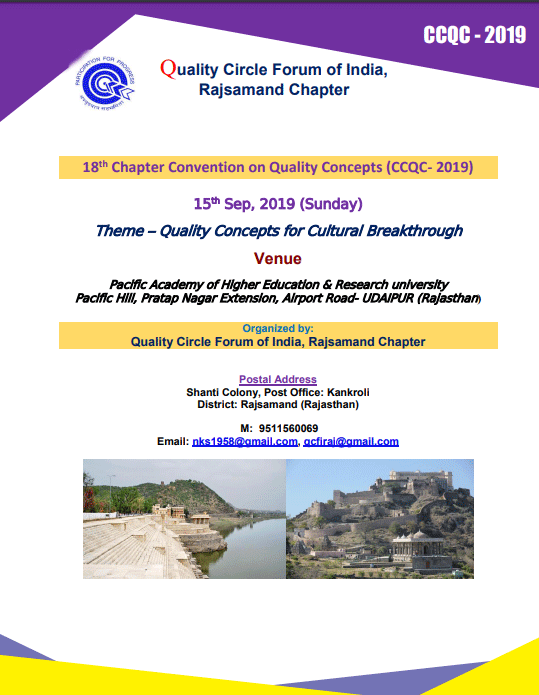 Dear QCFI Chapter Members / Potential members/ Quality Fraternity & Practitioner
The Chairman and Members of the Governing Council of Rajsamand Chapter extend a cordial invitation and warm welcome to you all for the 18th Chapter Convention on Quality Concepts (CCQC 2019) being organized at Udaipur in Rajasthan State on 15th September 2019.
The Convention Theme is "Quality Concepts for Cultural Breakthrough"
Date: 15th September, 2019 (Sunday)
Venue: Pacific Academy of Higher Education & Research University, Pacific Hill, Pratap Nagar Extension, Airport Road – UDAIPUR (Rajasthan)
For more details, download QCFI Rajsamand Chapter CCQC 2019
QCFI has been spearheading the education, training, propagation and implementation of Quality Concepts in industries, service sector, education, health, rural areas, society etc., for over 38 years in the national arena with the active support of our 32 chapters, sub-chapters, centers situated all over India. I plays greater role, year after year, in popularizing Quality Concepts in all sectors. 5S concept (Workplace Management) has been popularized by QCFI, suitable to Indian culture which is spreading across various manufacturing & maintenance industries as well as in service sector, like banking, hospitals, schools , railways throughout the country.
This will be an excellent platform for presenting the best practices adopted by employee's teams & organizations in the area of Quality Concepts. The Rajsamand Chapter founded in 2001 is playing leadership role in spreading Quality Circle philosophy and its allied concepts in entire Rajasthan.
For more details, download QCFI Rajsamand Chapter CCQC 2019
Correspondence contact details:
Organized by: Quality Circle Forum of India, Rajsamand Chapter
Postal Address: Shanti Colony, Post Office: Kankroli District: Rajsamand (Rajasthan)
Mobile: 9511560069 Email: nks1958@gmail.com, qcfiraj@gmail.com