18th Chapter Convention on Quality Concepts on September 19th & 20th by QCFI Vizag Chapter
September 19, 2018 @ 8:00 am

-

September 20, 2018 @ 5:00 pm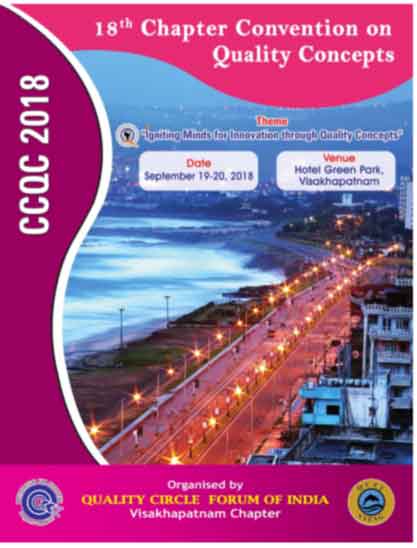 Dear Members of the Quality Circle fraternity,
The Chairman and the members of the Governing Council have great pleasure in extending a cordial invitation and warm welcome to you all to the yearly 'Chapter Convention' on various Quality Concepts .
Date: 19th & 20th September, 2018
Venue: Hotel Green Park, Visakhapatnam
For more information on QCFI Vizag CCQC 2018, download brochure
QCFI Vizag Chapter is playing an increasing role, year after year, in widening the scope and application of Quality concepts across various industry domains through propagation, education, training including hand holding in the adoption and successful implementation of various Quality Concepts.
The Japanese concept of 5S (Work place Management) has been popularized by QCFI, and customized to suit Indian work and industry culture. This concept is spreading across various manufacturing, educational and service sectors.
The theme for this year's Convention is "Igniting Minds for Innovation through Quality Concepts". Business is carried out by institutions and industry to fulfill the various needs of society. Customer satisfaction and profitability through productivity are the buzz words here. TQM is the journey towards "Excellence" in any business enterprise. TQM focuses largely on 'Total Employee Involvement'. In the process of manufacturing a product or rendering a service, innovation and incremental or breakthrough improvements have become imperative in the present context of globalized and liberalized trade scenario of the present day. This is possible by spurring and igniting the minds of employees of the Organization primarily at the working level through providing a platform for participation and recognition to tap and encourage creative thinking through a scientifically working process by adopting different Quality Concepts. Therefore the theme for this year's Convention theme is very relevant and appropriate given the present day context.
The Chapter Convention is a prelude to the National Convention (NCQC) at ABV – Indian Institute of Information Technology@Management, Gwalior scheduled to be held from December 21st to 24th, 2018.
We earnestly request all the member organizations of QCFI and others to actively participate in large numbers and patronize to make this year's Convention of Visakhapatnam Chapter a resounding success.
For more information on QCFI Vizag CCQC 2018, download brochure
O.R.Ramani,
Chairman
V.Narayanan
Vice Chairman
M.S.Srinivas
Secretary
Prof.M.Srinivas
Treasurer
Quality Circle Forum of India
Visakhapatnam Chapter
#401, 4th Floor, AG Avenue, Dwarakanagar 2nd Lane, Opp Pollocks Schools, Vishakapatnam – 530 016
Phone: 0891-2725570, Mobile 9440132213 email: qcfivizagchapter@gmail.com