29th (VIRTUAL) CHAPTER CONVENTION ON QUALITY CONCEPTS (CCQC-2021)
August 30, 2021 @ 10:00 am

-

5:00 pm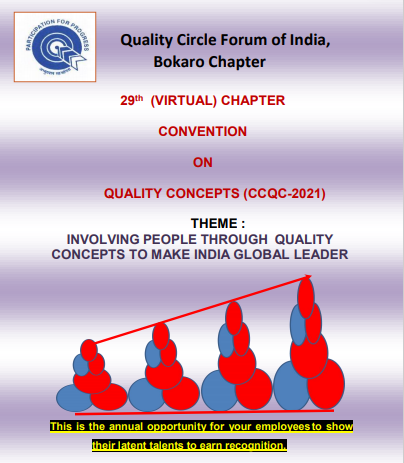 Greetings from QCFI-Bokaro Chapter!!
We have pleasure in informing you that this year the Bokaro Chapter Convention on Quality Concepts(CCQC-2021) for all the Institutional members of this chapter and the potential members of Bokaro and surrounding industrial areas is being organized virtually due to COVID-19 pandemic. The schedule of the virtual convention and evaluation criteria is given in this brochure.
Download Bokaro Chapter CCQC (Virtual) 20201 brochure 
For Registration contact : qcfibok@gmail.com
This convention is being organized to maintain continuity, in spite of the limitations due to COVID-19, of the much awaited opportunity of participation of the practitioners of the various Quality Concepts.
This is, also, an opportunity to learn and maintain the spirit in the present and uncertain conditions.
Case studies not presented in the past CCQCs and NCQCs and worked out after last (CCQC-2020 & NCQC-2020) conventions are, cordially, invited for participation on the following Quality Concepts.
Quality Circle
Five-S,
Kaizen,
Poka Yoke,
SMED,
TPM Circle,
Lean Quality Circle(LQC)
Guidelines given in the attachment for making presentation and presentation to be E- mailed to qcfibok@gmail.com before 30th August, 2021.
We look forward to the enthusiastic participation of your Quality Circles as well as Teams practicing Allied Quality Concepts.
CONVENTION SCHEDULE
1 Registration of Quality Circle / Allied Quality Concept Team by E-mail
Start on 1st August 2021 & Closed by 30th August 2021
2 Case Study Presentation should be e-mailed
Latest by 30th August, 2021
3 Communication of Final score / Award by QCFI
16th September 2021
4 Email E-certificate to Respective Organization
30th September 2021
5 Trophy Dispatch to Respective Organization
30th September 2021
Download Bokaro Chapter CCQC (Virtual) 20201 brochure 
For Registration contact : qcfibok@gmail.com
With kind regards,
For QCFI – Bokaro Chapter,
(MK Dubey)
Secretary