3rd Chapter Convention on Quality Concepts by QCFI Bhubaneshwar from 1st to 30th September, 2021
September 1 @ 8:00 am

-

September 30 @ 5:00 pm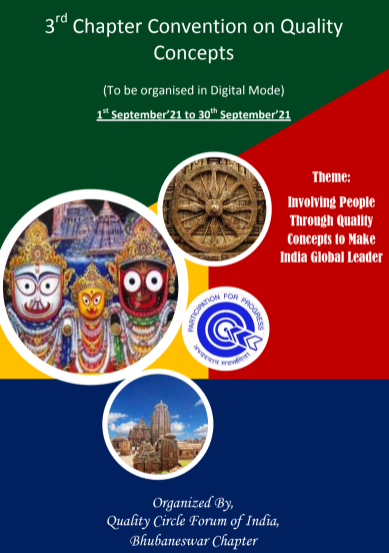 On behalf of Quality Circle Forum of India, Bhubaneswar and my personal behalf, warm
greetings are extended to all. With great pleasure, all our members, institutional and individual, are invited to the 3rd Chapter convention on quality concepts, CCQC 2021 Bhubaneswar to be organized in Digital mode, and scheduled from 1st to 30th September 2021.
For more information on Features and Fee Structure – Download Brochure
After formation of Quality Circle Forum of India (QCFI), Bhubaneswar in June 2018, the
inaugural Chapter Convention i.e. CCQC was organized at Bhubaneswar during September
2019, which was welcomed as one of the major professional events held in the state capital in that year. The debut performance drew a record participation of 73 teams from Odisha and neighboring states. Due to the menace of COVID 19 during 2020, as per the decision at NATIONAL LEVEL, CCQC 2020 was organized in Virtual Mode. However, inspite of the
restrictions, Organizations from Coastal Odisha came out with encouraging response and 52 projects were received for evaluation. The threat of the pandemic looms large even this year.
But we venture out again, to organize the Chapter Convention 2021 Bhubaneswar in digital
mode with additional inbuilt features. Keeping the battered economic situation in view, a
conscious decision is taken by us to encourage more participation by offering very competitive fee structure so that a greater number of organizations can nominate good number of projects. QCFI Bhubaneswar has planned to launch the CCQC 2021 Bhubaneswar event, aligned with the NATIONAL THEME "INVOLVING PEOPLE THROUGH QUALITY CONCEPTS TO MAKE INDIA GLOBAL LEADER"
I take immense pleasure in inviting all our members, to this 3rd Chapter Convention on Quality Concepts, CCQC 2021 Bhubaneswar being organized in a digital platform. Looking forward to a very good event, with grand participation and keen competition.
Overall Coordination:
Mr. R.S.Das:+91- 9348665311, 9437069347
Central Coordination:
Mr.Satyawan Nayak: +91-87701 67680,
Registration & Finance:
Mr. A.K.Rout :+91- 9437667505
Case Study, Model, Knowledge Test, Essay, Home Kaizen etc. Evaluation Coordination:
Mr. Bibhudutta Mishra: +91- 9437314864/9938250053, Mrs. Nishu Mishra: +91- 9937587079
For more information on Features and Fee Structure – Download Brochure
Jai HindCCQC
Chairman Chairman,
QCFI, Bhubaneswar