30th Chapter Convention on Quality Concept (CCQC 2019) of Northern Region on 19th Oct 2019 by QCFI Delhi Chapter
October 19, 2019 @ 8:00 am

-

5:00 pm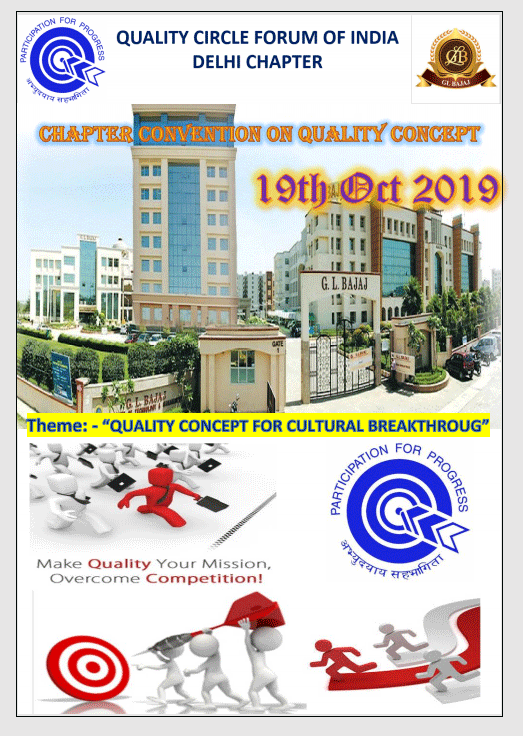 On behalf of Governing Council Members, I take this opportunity to invite you to attend the Chapter Convention on Quality Concept (CCQC 2019) of Northern Region.
G.L. Bajaj Institute of Technology & Management – 30th Regional Convention for NCR on 19th Oct.2019.
Date: 19th, Oct 2019
Venue: G.L. Bajaj Institute of Technology & Management
Download Brochure
We are expecting Participation of 135 + organizations & presentation of 300+ Quality Circles & Allied Concept Team, who will share their success story in the convention.
Case Study Presentation on Quality Concept
Quality Circle / Lean Quality Circle / WCM Circle / TPM Circle
Kaizen / Six Sigma / Poka Yoke / SMED Concept /Any other Allied Team concept
Model Exhibition
Skit Contest
Essay / Poster / Poem /Slogan Competition
Knowledge Test
Quiz Contest (Optional)
Technical Exhibition
This convention is being organized with the objective of attaining the Business Growth through Quality Concepts". It also supports the organizations to enhance the level of participation towards Total employee Involvement and engagement.
We recommend this convention, for nominating as many Quality Circles and Teams as possible using allied concepts& other QC events so as to have stronger exposure of this concept at your organization. We shall be grateful if you could be instrumental in bringing delegation from your organization to participate in this convention in large
numbers.
I hope you will take full advantage of this unique opportunity.
With best wishes,
Ravi Kumar Pisipaty
Chairman – QCFI Delhi Chapter
Contact Details
Quality Circle Forum of India-Delhi Chapter,
408 / 409, 2nd Floor, Ganpati Arcade,
Gurudwara
Road Gurgaon -122001 HR
Mr. Ashwani Singh Chauhan, Head Marketing & Member
Support, Mob No: 9911394710 / 9312394710
Mr. Sapan Sharma, Sr. Marketing & Member Support,
Mob No: 9310909140 / 8263852266
Mr. Sandeep Kumar, Accounts Executives
Mob. No: 7765944680