33rd NCQC 2019, being organized by QCFI jointly with IIT(BHU) and hosted by QCFI – Varanasi Chapter from 26th to 30th December 2019.
December 26, 2019 @ 8:00 am

-

December 30, 2019 @ 5:00 pm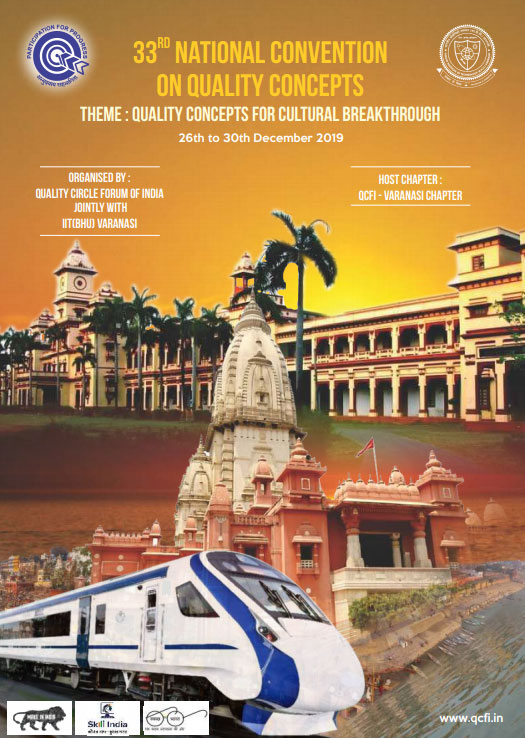 Dear Quality Fraternity and Practitioners,
Greetings! Welcome to NCQC 2019.
The President and the members of the Executive Board of QUALITY CIRCLE FORUM OF INDIA is pleased to invite you to the 33rd National Convention on Quality Concepts (NCQC 2019), being organized by Quality Circle Forum of India jointly with IIT(BHU), Varanasi and hosted QCFI – Varanasi Chapter from the 26th to 30th December 2019.
When: Dec 26th to 30th, 2019
Where: IIT(BHU), Varanasi
NCQC 2019  – Register Today
Download NCQC 2019 Convention Brochure
Who can participate?
Case studies presented in Chapter Conventions are recommended for National Convention (NCQC 2019). (CCQC 2019 schedule https://qcfi.in/ccqc-list-2019/)Organizations should be a valid member of QCFI.
How to register?
All applicant teams have to register online for the convention by 10th December 2019.
To participate and register for NCQC 2019, Organizational Members have to register online by logging in through their Membership accounts at http://qcfi.in/qcfihq
Once logged in, click on the NCQC Icon to fill in the initial section about the number of QCs developed in your organization and QCs presently active in your organization. Start the registration by clicking on a link "Click here to Add/view teams" and read NCQC guidelines carefully and follow the instructions of registration.
4 Steps to register teams for NCQC 2019:
Step1. Add team details for QC/LQC/Allied(Kaizen,5S, SMD, Others) delegates.
Add team details for Kaizen Competition (Display only).
You could also add teams for Home 5s/ Home Kaizen
Choose a maximum of three people to participate in the Knowledge Test among your team.
Choose Options for Industrial Visit (Limited Seats Available)
Step2. Upload Members Photos and Presentation Case Study File
Upload PPT File path (Upload PPT file to third party storage sites like google drive or others and please paste the Google shared file URL/path or other at the designated field)
Step3. Make Payment for added Teams by adding the payment details of DD/Cheque/NEFT/RTGS or
Step4. Book time Slots (Case Study Presentation) –
Choose options to participate in Model Presentation & Quiz
Download NCQC 2019 Convention Brochure