"Kaizen Conclave -2019" of QCFI Delhi – SubChapter Jaipur ( Rajasthan) on 22nd June 2019
June 22, 2019 @ 8:00 am

-

5:00 pm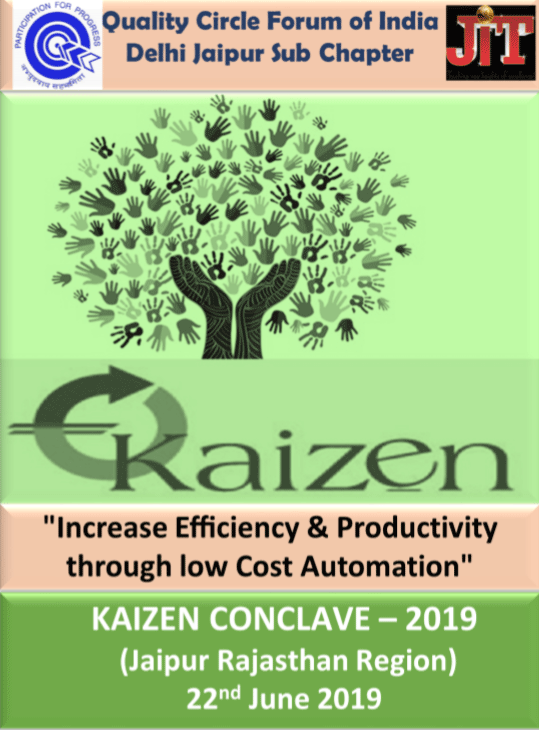 We cordially invite our member organisations to participate in our a prestigious event of  'Kaizen Conclave-2019' for Rajasthan Region, organised by Quality Circle Forum of India – Delhi SubChapter Jaipur on 22nd June 2019 in  association with  Jaipur  Institute Technology , Jaipur (Raj).
Theme of this Conclave is " Increase Efficiency & Productivity Through Low Cost Automation".
This will be an excellent event where participants will share their innovative ideas and best practices to increase efficiency & productivity in their organisations through low cost automation.
This Conclave will focus on the employee's involvement & engagement to tap their hidden potentials to develop an effective solution of the problem and to achieve the continual improvement in the organization.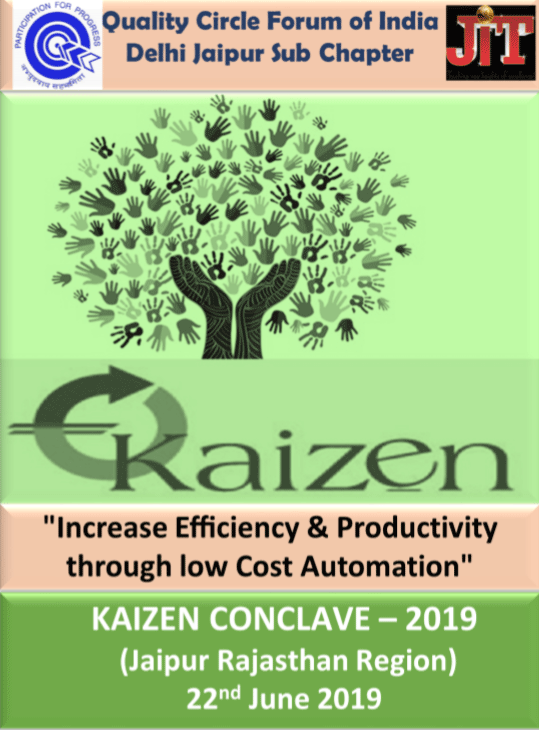 Technical papers must be submitted on or before 20th June 2019.
Topics:
 All technical paper presentations shall revolve around the following topics:
Kanban ( Just in Time )

SMED ( Single Minute Exchange of Dies )

Shop Layout Improvement

Shop Floor best Practices

Resources utilization & Improvement

POKA-YOKE

Jidoka (Low cost Automation)

Efficiency improvement
2. CASE STUDIES –
 Kaizen / ideas / Suggestions for employees of member organizations (Executives /non executives)
Team will consist of 2 ~3 employees to present their case study

Each team is allotted a time slot of max 10 minutes ( 7 minutes – presentation and 3 minutes – Question & Answer )

Team must send an soft copy of their presentation latest by 20th June , 2019 to the Co-ordinator, QCFI Delhi Chapter.
Detailed brochure is attached herewith for your kind information. 
Registration are open from 3rd June  2019.
You are requested to kindly advise your team accordingly to participate in this 
prestigious
 event and demonstrate the unity of humanity through the spirit of Continual Improvement.