QCFI Tirupati Chapter announces 8th Chapter Convention on Quality Concepts 2022 on 14th & 15th October, 2022 at SV College of Engineering, Karakambadi Road, Tirupati
October 14 @ 8:00 am

-

October 15 @ 6:00 pm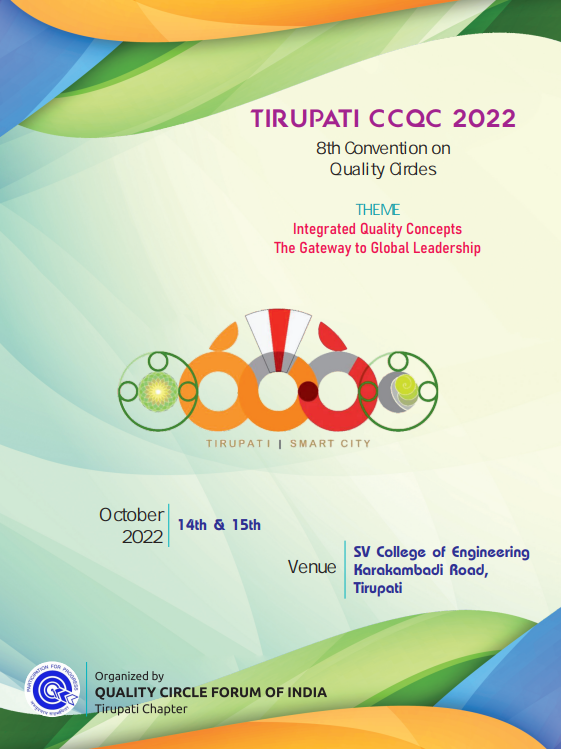 The chairman and the executive members of governing councils of Quality Circle Forum of India (QCFI)- Tirupati chapter are happy to invite you to the 8th Annual "Chapter convention on Quality concepts in the holy town Tirupati, in the state of Andhra Pradesh.
Date: 14th & 15th October, 2022
Venue: SV College of Engineering, Karakambadi Road, Tirupati
for more details on CCQC 2022, download convention brochure
Last date for Registration & Payment is 30th September 2022.
You may contact us @ Mobile nos: +91 7396663622/ 9493173159 for further details and assistance.
We are honoured to inform you that your Tirupati chapter has been recognised from the inception as the best in the country for the largest membership since 2015. It has been striving to reinforce the problem solving culture in the industry to resolve many problems on safety, quality, productivity and cost. Now it is focusing on building statistical skills in the students from different educational institutuons in Andhra Pradesh state.
In 7th CCQC, we have received excellent response from various institutions and individuals from Andhra Pradesh and across the country. During which there were 176 Quality circle teams from more than 50+organisations and institutions have presented their case studies through virtual participants.
For this year(8th CCQC) we are receiving overwhelming response from many institutions across the country. We are very much hopeful that we may have around 270-300 Teams From different companies across all parts of India.
Your team participation in convention is valuable to us, the teams & deligates who attend to us. We believe that understanding of various problems, their solutions & ideas will enhance the knowledge of participants. We are happy to invite Qc Teams, Facilitators, Coordinators, Managers, Functional heads & senior management to attend this Two day program and make it a grand success.
Yours Sincerely
Jagan Mohan G
Chairman
Contact Details:
Quality Circle Forum of India – Tirupati Chapter
#6-8-1218, N.G.O Colony, KT Road, Tirupati – 517501
Mobile: 7396663622, 94931731459
Email: qcfitptchapter@gmail.com