Two days seminar on "Cross- Contamination: Source and Prevention" by QCFI Ankleshwar Chapter
April 19 @ 8:00 am

-

April 20 @ 5:00 pm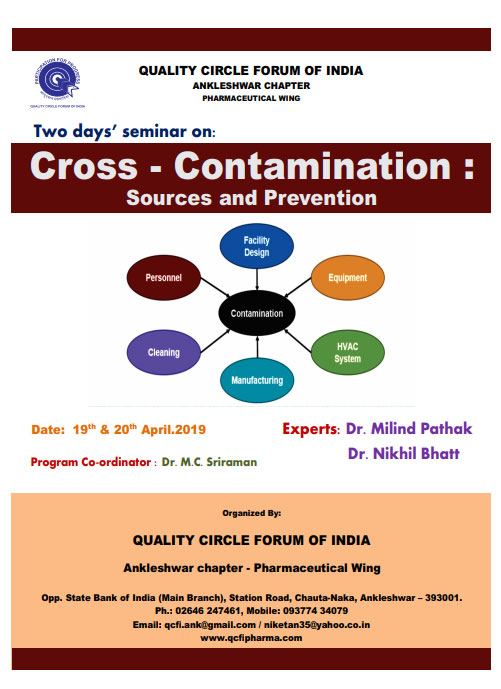 Greetings from Quality Circle Forum of India ( QCFI ) !!!
It is our immense pleasure to announce two days' seminar on "Cross-Contamination : Sources and Prevention" on 19th & 20th , April – 2019 at Hotel Lords Plaza , Station Road , Ankleshwar , organised by Pharmaceutical Wing , Quality Circle Forum of India , Ankleshwar Chapter .
A brochure for seminar detail is attached herewith for your reference.
Cross-Contamination in pharmaceutical manufacturing has been a huge concern not only to experts and industries but also to average person or patient. It becomes a major topic of discussion among various communities and all the stakeholders.
An objective of this seminar will be to explain what exactly cross-contamination is ? and also to suggest sources and area for its prevention.
For more information on this two day seminar Download the Seminar Brochure
Request to contact on niketan35@yahoo.co.in OR nikhilbhatt86@hotmail.com OR 9377434079 for further information, if required.
With best regards,
Dr.Milind Pathak,
Joint Secretary and Faculty
Dr.Nikhil Bhatt,
Governing Council Member and Faculty
Dr.M.C.Sriraman,
Governing Council Member, Faculty and Event Coordinator
Pharmaceutical Wing,
Quality Circle Forum of India,
Ankleshwar Chapter.
www.qcfi.in