Quality Circle Forum of India is pleased to announce issue of 5S certificate in association with Union of Japanese Scientists and engineers (JUSE). This they have agreed after seeing the procedure of our 5-S certification. This was declared in the 5-S conclave held on 26th Nov'16 in Mumbai. The message of the MD and the design of the certificate approved by JUSE are given below: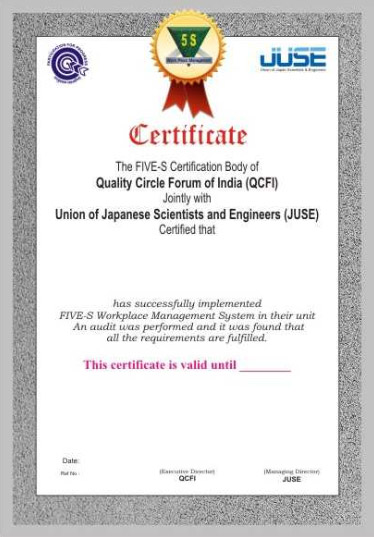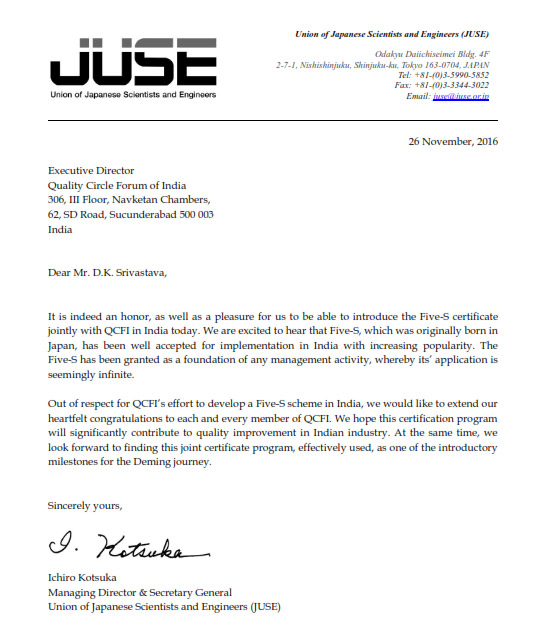 PROCEDURE FOR 5-S CERTIFICATION IN ASSOCIATION WITH JUSE JAPAN
To apply for the above 5-S certificate, the following procedure to be followed.
1. Your organization should be a valid member of QCFI
2. Your organization should have implemented 5S through QCFI or other sources
3. Review by QCFI, Headquarters in following stages
Stage 1 – Gap analysis of 5S implementation by QCFI faculty for 2 to 4 days depending upon the size of the plant. If required necessary training will also be given.
Stage 2 – Pre-certification audit will be done by the QCFI trained auditors. In case 75% score is achieved in pre audit, unit may go for final certification audit. During this audit, non-conformance report will be given. Now we have to follow the following procedure for getting the final certificate from QCFI in association with JUSE.
Organization chart for 5S implementation
Organization layout map showing gate, surrounding areas and different departments to give information about your unit and process flow charts.
Photographs of each zones covering total area. Cabinets and cup- boards to be in open position when taking photographs.
Photographs of all sub zone/zone wise rough audit sheets photographs for latest two audits and management audit for the same zone.
Score board photographs showing the score of all the zones.
Photographs of the head of the unit's office and his/her secretary office (if applicable) and at least two more offices of senior executives with their drawer and cup boards if any.
Photographs of Gate, worker's toilets, other toilets, roof, drinking water area, canteen, notice board, two wheeler stand and car parking etc.
Implementation of 5S in colony, shops, security, worship places, schools, nearby adopted village
(whatever is in the purview of the organization)
Achievements through 5-S implementation
Photographs of Jagruti group.
Photographs of home visits – one home of senior executive, one from middle management executive and two to task performers.
Display of overall score boards and shield given to zones.
QCFI evaluation sheet with remarks for 1000 marks.Stage 3 – Final Certification audit will be done after getting the above information through soft copy and then visited by QCFI auditor for verification and overall evaluation. If audit is satisfactory the report will be sent by QCFI to JUSE with documentary evidences. After the perusal by JUSE team the certificate may be issued which will be sent to the unit. This certificate will be valid for three years subject 6 monthly surveillance audit with minimum overall score of 70%.

For charges and other details please write to
Executive Director,
QCFI, 306 Navketan Chambers,
3rd Floor, 62 SD Road,
SECUNDERABAD, TELANGANA – 500003,
E-mail: qcfihq@qcfi.in or trgqcfihq@gmail.com
The message of the MD, JUSE and the design of the certificate approved by JUSE is attached.
Read Letter from JUSE