8th National Conclave on 5S had a grand start on 25th June, 2022 at Agnel Institute of Technology and Design (AITD), GOA. Registration commenced at 8:00 AM and went on very smoothly without any hiccups. Case study presentations in 8 parallel halls having 1 judge at each of the halls for evaluating the 5S Presentations / Kaizens .  The Presentations started by 9:00 AM sharp and ended by 2:00 PM.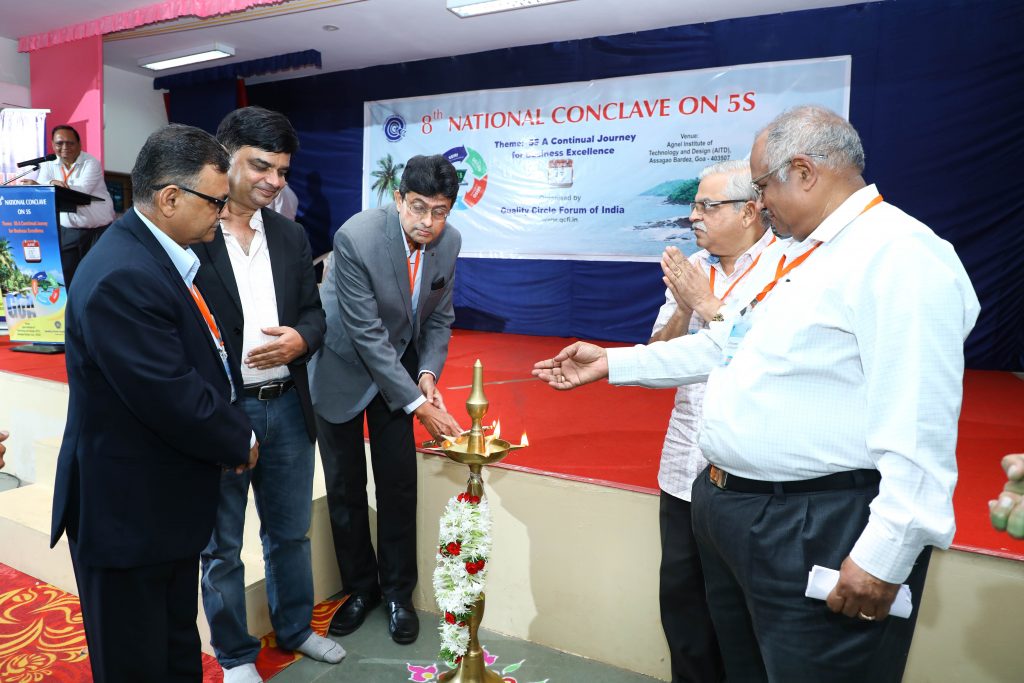 5S Function / Valedictory commenced exactly at 3:00 PM. ED and the President welcomed the gathering and expressed their happiness over the good response they received for the 5S conclave. Mr. Vivek P Marathe, the Chief Guest along with other dignitaries and QCFI's ED, Mr DK Srivastava, President, Mr.Avinash Mishra lighted the lamp after which the program started as per the schedule.  The Chief Guest and the Guest of Honors were introduced by Mr. Sunil Shrivastava – COO, TQM – QCFI.
Chief Guest and Guest of honour for the  function are Mr Vivek P Marathe – Chief Inspector of Factories, Govt of Goa, Mr Mahesh Chougule- Vice President , Goa Glass Fibre Ltd, Mr. S Ramalingam – Sr Vice President, The Ramco Cements, RR Nagar, Mr. Rituraj Mehta -Corporate Head, Business Excellence & Safety, Adani Group and Mr.Rohit Gupta -GM HR, Glenmark Pharmaceuticals Ltd,.
The recorded video messages of Mr. SJ Kalokhe – President Emeritus – QCFI,  Mr JP Nanda, COO – Adani Power Ltd, Mr.PVVS Rao – Director Plant, Goa Glass Fibre Ltd, Mr Varun Mehta – ED, Torrent Power were played and appreciated by one and all, where in everyone stressed the importance of 5S and its contribution for overall effectiveness and good upkeep  of environment.
5S Manual was released by the Chief Guest, Souvenir brought out on the occasion was released by Mr Mahesh Chougule. ED gave a short brief about the conclave and the President QCFI welcomed and addressed the gathering. Chief Guest Mr.Marathe, Mr.S Ramalingam, Mr.Chougule and Mr.Rohit Giupta addressed the gathering in brief.
Award Function commenced where the teams received their trophies and certificates in two parallel streams. Vote of thanks was delivered acknowledging everybody's contribution and support rendered for the conclave.
Grateful thanks to the organizations, participants who have presented enthusiastically about the improvements they brought by implementing 5S in their respective organizations. QCFI thanks Goa Glass fiber for their total support in organizing this conclave in association with us and to the college Agnel Institute of Technology and Design (AITD) for their full support. Our Gratitude to the sponsors Titan watches and Goa glass Fiber Pvt Ltd.  Our thanks are also due to advertisers.
Last but ot the least; 5S Home makers deserve our greater applause. Special thanks to JURY.
8th 5S Conclave statistics:
Total no of teams participated: 145 teams
Total no of organizations: 69
Total no of delegates attended:  500+
Regards,
Thanking You,
DK Srivastava
Executive Director
Quality Circle Forum of India