19th Visakhapatnam Chapter Convention on Quality Concepts on 12th & 13th September, 2019
September 12, 2019 @ 8:00 am

-

September 13, 2019 @ 5:00 pm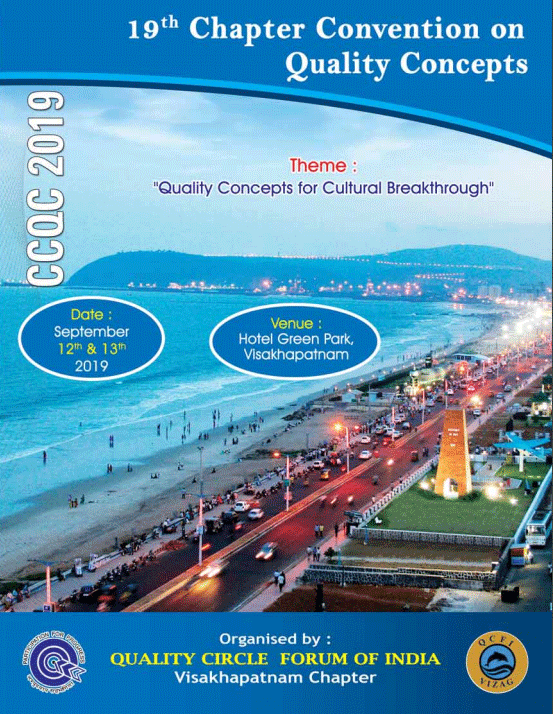 Dear Members,
Chairman and Governing Council Members have great pleasure in extending a cordial invitation and warm welcome to you all for the yearly "Chapter Convention" on Quality Concepts .
Dates: 12th & 13th September, 2019
Venue: Hotel Green Park
Theme: Quality Concepts for Cultural Breakthrough
For more details download CCQC 2019 by QCFI Visakhapatnam Chapter
QCFI has been spearheading the education, training, propagation and help in implementation of Quality Concepts in industries, service sector, education, health, rural areas, society etc., QCFI is playing a greater role, year after year, in enlarging the scope of propagation, education, training and implementation of different Quality Concepts.
5S concept (Workplace Management) has been popularized by QCFI, suitable to Indian culture which is spreading across various manufacturing & maintenance industries as well as in service sector, like banking, hospitals, schools and colleges and also in railways through out the country. The Convention theme of the year is "Quality Concepts for Cultural Breakthrough".
In the present global industrial scenario, every business entrepreneur would like to be excellent with world class products and services, which is possible only through continuous improvements and innovations. To achieve this, Quality Concepts as an integral part of Total Quality Management are to be adopted and practiced by the organisations with total employee involvement. Total employee involvement in total business process brings all the employees together to create a culture which will develop into an organisational "Work Culture and a Breakthrough" to be a brand icon in the business.
The Chapter Convention will be followed by 33rd National Convention (NCQC-2019) at IIT, Varanasi, Uttar Pradesh from 27th to 29th December, 2019. We earnestly request all the QCFI members to participate in large numbers and make this convention a grand success.
For more details download CCQC 2019 by QCFI Visakhapatnam Chapter