35 Annual Chapter Convention on Quality Concepts by Hyderabad Chapter
October 16, 2021 @ 8:00 am

-

October 25, 2021 @ 5:00 pm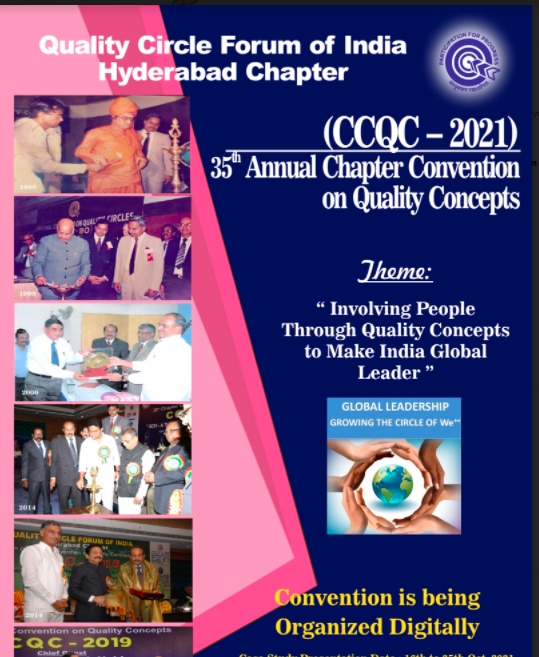 The Chairman and Governing Council members of QCFI – Hyderabad Chapter are pleased to extend you a cordial invitation to participate in the 35th Annual Chapter Convention to be conducted during the period 16th October to 25th October 2021.
Download Hyderabad Chapter's CCQC 2021 Brochure 
Convention is being Organized Digitally
Case study presentations to be held from 16th to 25th October, 2021
Date of Event Celebration 30th October 2021
We all have experienced tough times due to the world wide pandemic which had created havoc in our lives in some form or other. This has caused a global shift in conduct of meetings, conventions, and events from "in person" gatherings to adaptation of "virtual platform". Keeping the existing situation in mind and the safety of participants, QCFI Hyderabad Chapter has decided to conduct CCQC 2021 on the "virtual platform". Details of conduct of the event is detailed in the brochure.
Total Employee involvement through Quality team concepts is the mission of QCFI
The theme for this year's convention is "Involving People through Quality Concepts to Make India Global Leader". The theme, you will appreciate, is in
line with the current situation where our country is grappling to recover economically from the impact of the pandemic and become a global player once again. This has been very well demonstrated by the swiftness in which Indian scientists and manufactures have come out with vaccines to combat the pandemic domestically and globally. The theme also indicates the efforts to be made for improvements and innovations. Our Chapter Conventions gives an opportunity to all member organizations and its employees to showcase their achievements. With this objective in mind we request all institutional members and practitioners of Quality Circle to actively participate and avail great benet from this year's convention and make it a grand success.
Download Hyderabad Chapter's CCQC 2021 Brochure 
Thanking you for your continued support and patronage.
To The Secretary
QCFI – HYDERABAD CHAPTER,
206, IInd Floor, Navketan Chambers,
62, S.D. Road, Secunderabad – 500 003
Phone : 040-27801668 & 29562558
Email: qcfihydchapter@gmail.com
Convention Coordinators from Chapter
Mr. D.K. Bhattacharya (M) 9346004244
Mrs. C.Jayalakshmi (M) 9676720717,
Mr. V. Janardanan (M) 9885833409,
Mr. M.S. Narender (M) 9866966848