Intellectual Property Rights (IPR) Awareness Program by QCFI HQ in association with QCFI Bhilai Chapter at Courtyard by Marriott on April6th, 2019
April 6 @ 8:00 am

-

5:00 pm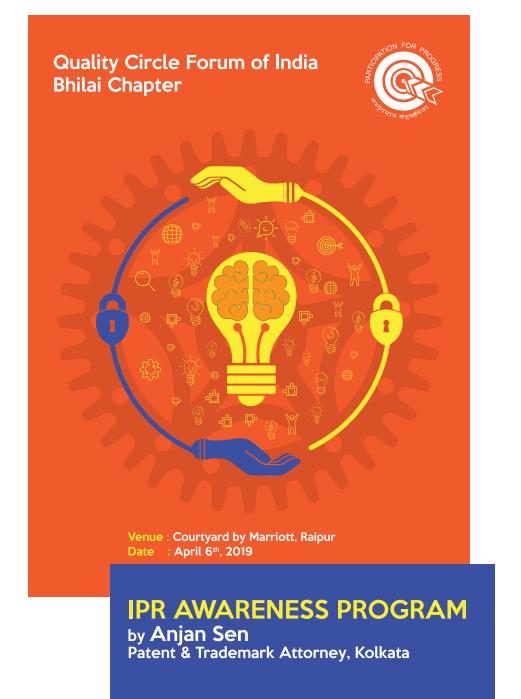 QCFI have been watchful in tracking the evolution of innovative teams who are doing noticeable improvements across India aided by quality Circles, continuous improvements and development of quality concepts. QCFI believes that as a developing nation, industry and entrepreneurs should be encouraged to foster a culture of developing intellectual creativity in various industrial and commercial activities in India and abroad, and accordingly, the need to be conscious of rights and obligations governing intellectual creations of the human mind.
It is thus important to trace valid and subsisting IP rights in India and abroad and serious thoughts in developing the much needed IP awareness for mapping state of art patent technologies and/ or various forms of jurisdiction specific IP coverage including its various forms and legal scope. Organizations should put serious thoughts in importance of trademark in relation to various products and services offered, patent/ copyright mapping, patent reviews or audits to appreciate scope of developments so as to enable generating skill and expertise for patenting in India and abroad.
Hence it is requested from all the organisation to please send one or two participants from your organisations so that they can become mentor for the organisation and help the QC teams in identifying and writing patent document.
Programme Title: Intellectual Property Rights (IPR) Awareness Program 
Venue: Courtyard by Marriott, Raipur, Chhattisgarh
Fee: Rs6000 +GST
Date: April 6th, 2019
For more information on this innovative training programme on Intellectual Property Rights, download complete programme brochure
Please note the followings:
1.10% discount is offered for Permanent Member organisation and Individual Life members.
2. Organisations can Redeem Credit Points earned during NCQC-2019.
3. Please note that maximum 30 participants will be accommodated per batch, if number increases sufficiently second may be considered. So please book your slot as soon as possible.
For more information on this programme contact:
QCFI Bhilai Chapter
Tulip – 275, Block-A, Talpuri International Colony, Bhilai West, Dist. Durg, Bhilai-490 009
094079 81822 (Sec); E-Mail: qcfibh@gmail.com