4 Days Workshop on Six Sigma – Green Belt Certification by QCFI at TQM Division Hyderabad on April 10th – 13th, 2019
April 10 @ 8:00 am

-

April 13 @ 5:00 pm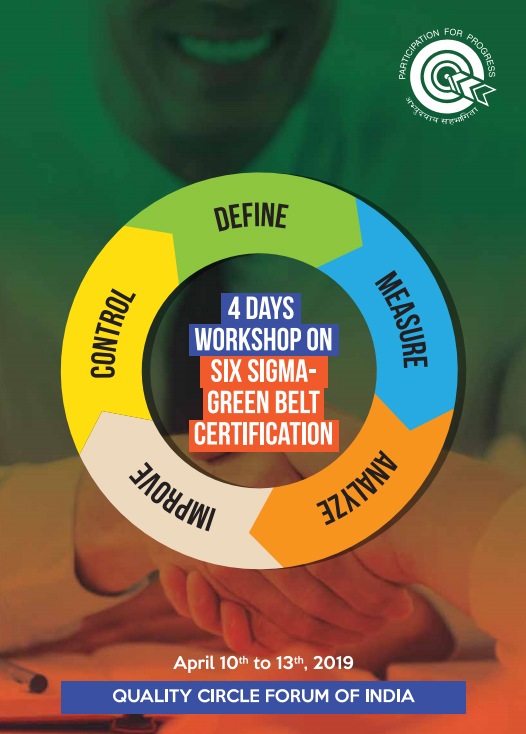 For over five decades now, professionals have been promoting quality control/quality assurance in organizations all over the world, but their efforts have met with only a partial success. Several factors contributed to this situation, including operational and conceptual deficiencies. Perhaps the top managements in the past did not face enough threats and opportunities to take quality seriously. The emerging global economic environment has now prompted them to implement quality for the very survival and continued success of their business. As a result captains of industry as well as the government have taken the lead in promoting quality improvement to strengthen the competitive process and speed up economic growth.
The best approach currently available is Six Sigma philosophy wich has been proved very effective as methodology for business competitiveness. Six Sigma lays great emphasis on processes and their improvement; equally it recognizes importance of people and their pro active role in making the processes cost effective through Six Sigma methodology.
Six Sigma is a highly disciplined methodology and well structured practice that provides the tools you need to achieve consistent and high performance results from the processes. By improving performance and reducing variation, Six sigma allows organizations to become customer -focused, and data-driven decisions that ultimately results in reduction in product defect, increased profits, employee morale and high quality products, a win-win situation for every one involved.
QCFI planned to organize a "Six Sigma Green Belt Certification Workshop" for 4 days in from April 10th to 13th 2019 at QCFI Training Centre.
The workshop is designed and developed by the experts who have excellent knowledge and experience in implementation of Six Sigma, application of statistical tools and techniques and the problem solving methodology in variety of industries.
The Green Belt certification workshop provides the participants in-depth understanding and use of DMAIC process and problem solving tools and techniques towards organizational Excellence. After attending the workshop the participants are required to take up a project related to Cost reduction, Productivity improvement, Scrap reduction, Quality improvement etc., for a maximum period of Two months, during which guidelines will be provided by QCFI experts on reasonable charge.
Certification Requirements:
Active participation during lecture sessions and group assignments and passing of examination at the end of 4 days of training.
Certificate of "Six Sigma-Green Belt" will be issued to all the participants who get minimum of 70% marks and completion of project.
This workshop will be conducted by the practicing consultants.
Dr.A.Sanjeeva rao
Vice President, QCFI
Mr.D.K.Srivastava
Executive Director, QCFI
For more information on this programme, download complete brochure
Contact:
Quality Circle Forum of India
306, 3rd Floor, Navketan Chambers 62, SD Road Secunderabad – 500 003
QCFI GST No 36AAAAQ0008P1ZK
Phone : 66318068, 66311168,
Support Email: qcfihq@qcfi.in