QCFI Bhilai's Chapter Convention on Quality Concepts on 8th & 9th September, 2018 at Rungta College of Engineering and Technology
September 8, 2018 @ 8:00 am

-

September 9, 2018 @ 5:00 pm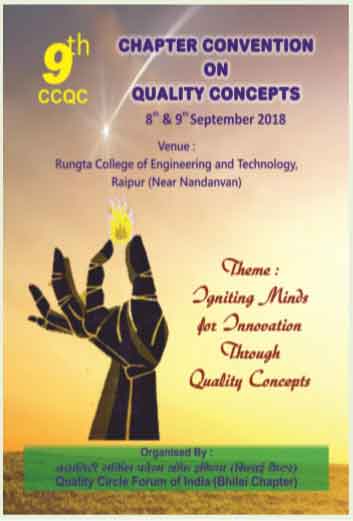 Dear Quality Fraternity & Practitioners:
Quality Circle Forum of India has great pleasure in inviting all the individual life members and member organization for the 9th Chapter convention on quality concepts scheduled to be held at Rungta College of Engineering and Technology, RCET Building, Ward No. 1, Veer Sawarkar Nagar, Behind Nandan Van, Raipur on 8th and 9th September, 2018.
Quality Circle Forum of India (QCFI), Bhilai Chapter started in the year 2010 under the umbrella of QCFI – A National, Non-Profit, Registered Society, established in the year 1982 is engaged in the propagation of philosophy and implementation of quality concepts across the country including northeast states of the nation along with its 25 chapter, and 4 centres.
Presently, industrial scenario is changing rapidly in an unprecedented way, because of change in the central Government and mission & objective for fast growth and development is only possible with creating value to the society, that is the theme of convention i.e. 'Igniting Minds for Innovation through Quality Concepts'.
Today, Total Employee Involvement (TEI) is the key to success for sustaining the Quality Concepts with integrated approach to Total Quality for Performance Excellence in all the fields. QCFI is dedicated to contribute its knowledge and experience to develop skill in the nation for success through people participation and that is the pathway to overall success.
For more information on QCFI Bhilai Chapter Convention, download borchure
YK Degan                                                  GP Singh
Chairman, Bhilai Chapter                         Secretary, Bhilai Chapter
QUALITY CIRCLE FORUM OF INDIA, BHILAI CHAPTER
QCFI, Bhilai Chapter TULIP-275, Block-A, Talpuri, Bhilai West, Dist:-Durg (C.G)'PIN:-490009
Phone: 0788-2860175, 9407981822 (M)
E-mail:qcfibh@gmail.com; gpsingh@sail-bhilaisteel.com;
Website:http://www.qcfibhilai.in