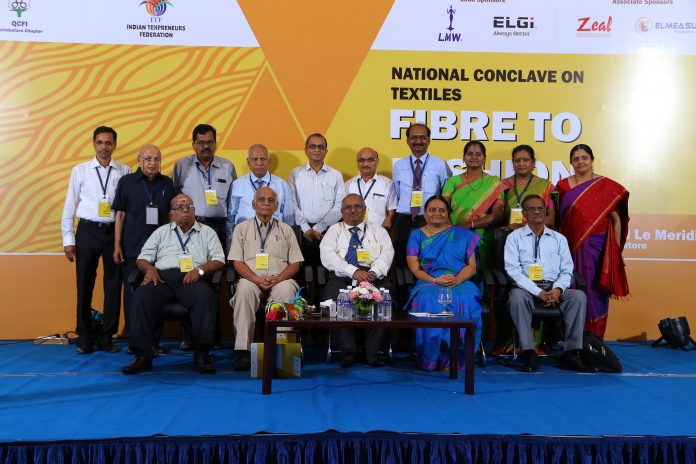 Quality Circle Forum of India and Indian Texpreneurs Federation (ITF) jointly organized a National Conclave on Textile – Fibre to Fashion to discuss the strategies to be adopted to meet the current challenges faced by the Textile industries.
Ms J Mohanasundari, Chairperson, QCFI Coimbatore Chapter welcomed the Chief Guest and all the dignitaries and the delegates who have made for this Conclave.  She announced that from Coimbatore Chapter that MrSankarasubramanian has been elected as a Director on the Board of Directors of QCFI. He was felicitated with a bouquet and shawl.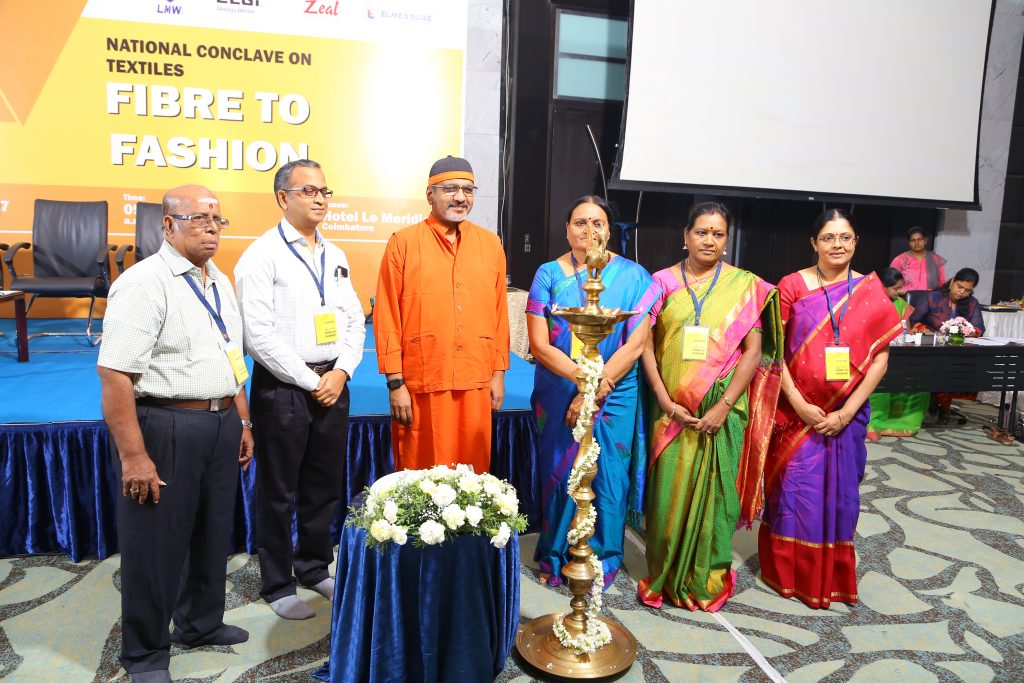 Mr D Prabhu, Secretary, Indian Texpreneurs Federation said that the domination of the Chinese Players is decreasing.  Even, if Indian textile industry could get 10% of the Chinese market, it would amount to Rs Two lakh crores.  On one side this is an opportunity; but on the other hand the competition is also very high and hence to be competitive the textile industry has to focus on productivity improvements, waste elimination by using various Quality Concepts and Lean Tools.
Dr Sanjeev Rao, Vice President, QCFI informed that the Indian Textile Industry has a very big potential in domestic market as well as export market.   Domestic consumption in India is growing because of increase in purchasing power of the middle class.  There is a big opportunity that is waiting for the textile sector.  He also delivered a special address on QA – The Heart of Textile Industry leading to Customer Happiness.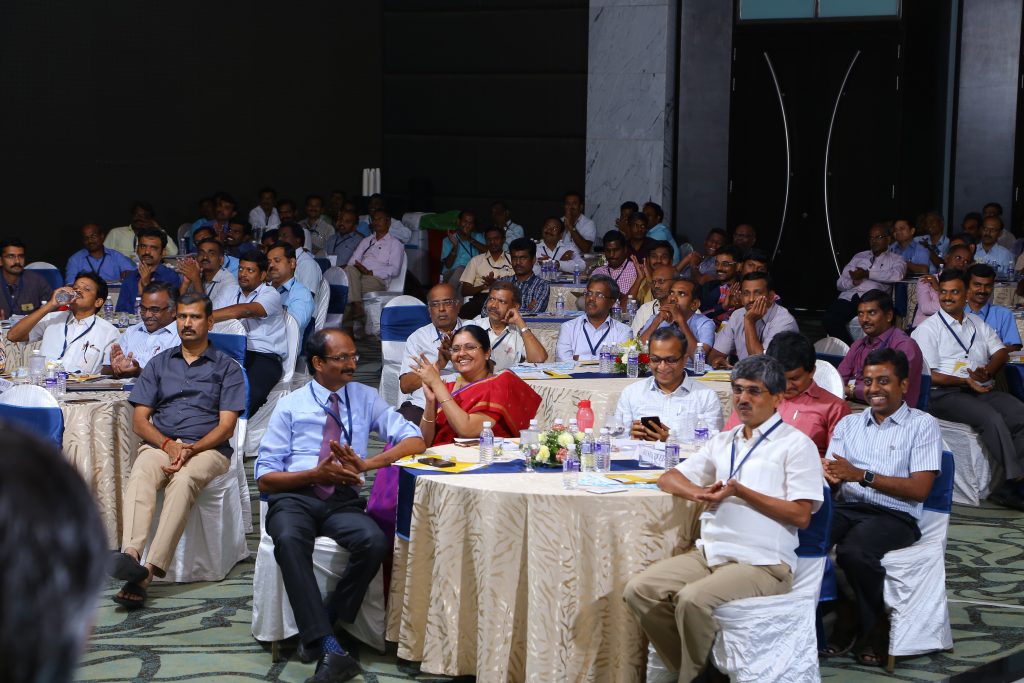 Swami Mitrananda , Acharya Chinmaya Mission – Chennai  delivered the Inaugural Address on "Quality Mind"to  prepare mentally to face the day to day challenges and be ready to meet the most competitive global market.
Mr D K Srivastava,Executive Director, QCFI briefed about QCFI and the services rendered and delivered a special lecture on " How QCFI helps Textile mills and successful implementation of 5S and joint certification on 5S by  QCFI and JUSE of Japan.
Dr Mohit Kanwar, former Vice President of Wellspun Ltd., Vadodara spoke on ways and means to"sustain the labour in the industry, which is one of the severe challenges the textile industry faces today by sharing his experience.
The importance of Technical services and audit on textile machinery was explained by Mr.Balasubramani, DGM Global Service, Lakshmi Machine Works, Coimbatore.
Export opportunities available for textile industry was explained by Mr Sivaraman,  Advocate and Consultant in Foreign Trade Policy and Customs Law.
Afternoon session started with Energy Conservation  whichwas another important topic focused in the Conclave.  Special emphasis on energy management – air was dealt by J Mr Gershom, AGM,ElgiEquipments.
Mr T K Babu, CEO,Elmeasure, Bangalore delivered a special  address of how energy management- electricity can be handled to improve the bottom of the company by reducing the cost of power and he presented live case study of savings to the tune of Rs 25 lakhs per year.
A lively Panel Discussions on Opportunities and Challenges moderated by Mr.Elango, MD of Sangeeth Textiles and Mr.Manoj KumarJhahria, JMD , Salona Cotspin and the  Panel members were M.rRamasundaram of Sharada Terry Towels; MrKarruppusamy, Consultant, Mr.Sundaravadivelu of Pallava Group and Mr.ArunRamsamy,MD, Newman Exports.
Chief Guest for the Valedictory Function was Ms Malathi, Managing Director, Sri Karunambikai Mills, Coimbatore who shared her experience of how by implementing quality circles in her mills, she could see dramatic change in the attitude of the operators and they have also solved lot of small problems and they have successfully completed one case study and they have started working on the next project.
MrSankarasubramanian, Vice Chairman, and Director briefed the gathering about the ITF QC Cluster program.  He also informed that the textile conclave, first of its kind, attracted a good response and we had over 225 delegates from 110 textile industry.
The meeting ended up with a vote of thanks by Ms.S Yogeshwari, Secretary, QCFI Coimbatore Chapter. Mr.P Baskar, GM, Shivatex Yarn, Coimbatore was instrumental in taking up the complete execution of the Conclave activities right from the printing of the invitation to the final day of the Conclave where  as per the minute to minute plan chalked out by him; of course with the support of other members of the QCFI Cbe team and the main force behind the Conclave was Mr.Prabhu, Secretary, ITF.