We at QCFI, are organizing our 1st TQM India Summit -2023 to create a seamless sharing platform amongst the entire spectrum of industries and institutions leveraging digitalization to evolve and replicate the common thread of best practices on innovation, quality , approach, systems, teaming, leadership and so on ! With this premier event of the country, we are on the threshold of ushering in a new era of sharing open/disruptive innovations, collaborations & creation / replication of benchmarks across the sectors !
With immense pleasure & pride, we solicit your gracious presence in the 1st TQM-India Summit – 2023 by QCFI in association with QCFI Bengaluru Chapter & Dayananda Sagar College of Engineering on 7th October, 2023 with this premier event of the country. The Summit creates synergy of Best Innovations / Best Practices / Success Stories / Systems & Strategies from the best of leaders / experts / thinkers from the entire spectrum of industries, institutions. The summit provides a premier networking platform for the accelerated growth of the country. It also invites case studies from Organization teams on breakthrough achievements following the structured thought process of P-D-C-A.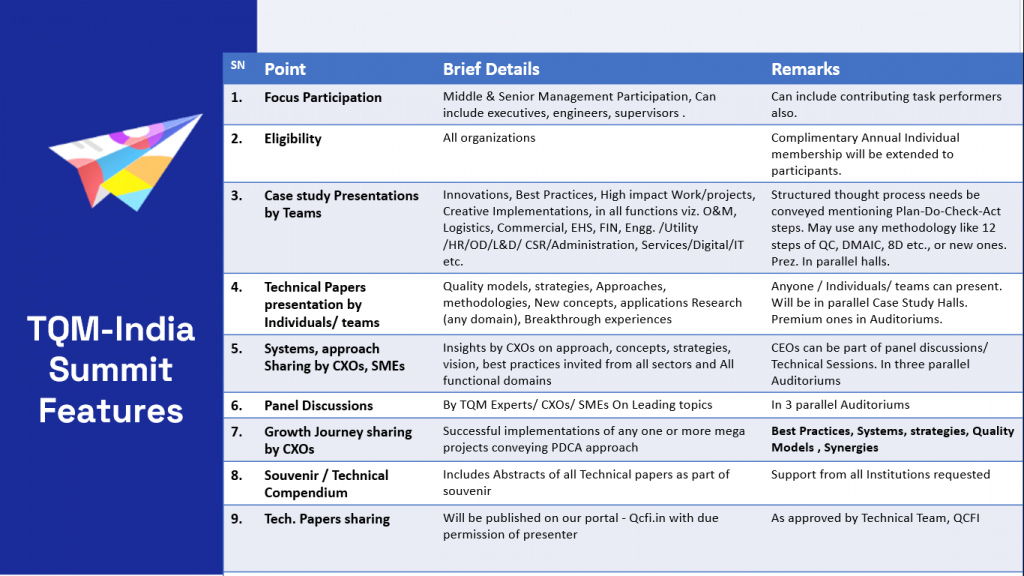 The convention theme is "Breakthrough Quality Solutions – Unlocking Values" and focuses on Quantum Value additions, Innovations and Quality approach laying due stress on structured thought process. It targets to bring together best practices, solutions from across sectors from the best leaders / performers / thinkers / experts!
Looking forward to your active participation of organizations/ teams.
For any further queries on this upcoming Pioneering event from QCFI, please contact convenor Shri Sunil Shrivastava, COO – TQM, QCFI
Note* TQM-India Summit 2023 registrations will be active on QCFI portal starting from June 5th, 2023, meanwhile if you want to nominate the teams early, please mail us your team details for registration to qcfihq@qcfi.in. Registration contact Mr Manoj Reddy mob:9989697930 For more details on 1st TQM-India Summit 2023 curtain raiser, pls view and download the program flyer.