Acknowledging the world has changed beyond recognition in the last 50 years, with a decline in the inuence of the family and religion, but, the schools still have "the power to pass on values which will last life long".
Charged with the task of inducting children into the fundamental values of our society, schools, in many ways, are the moral mentors of the new millennium. Atmosphere and ethos in a school are more powerful factors in the acquisition of values than any amount of curriculum based teaching on its own.
Schools are more than academic institutions –
They are living and breathing communities with the power to pass on values to students which will last a whole life long. Frankly, academic adequacies only run skin deep, but values and character go all the way to the bone!
Schools are, potentially, the most stable and reliable value structures for children today – and they are extremely effective at communicating these values.
Teachers play a major role of' Value Drivers' and act as catalyst and create medium in transferring values to students in developing them perfectly to adjust to any situation in life.
This program can generate interest, initiative and instill in Teachers the challenge of transferring them to role models of Values.
Takeaway for the Teachers
Understanding importance of Values for personal and Institutional Success.
Discovering personal Values and connect them to Institutional Values
Making decisions within the institutional Values framework.
Helping the Institution in identifying value blocks and converting those to value enablers.
Understanding team concepts such as 5S, Kaizen, Quality Circles and Lean Quality Circles.
Personal action plan to internalize, strengthen exhibiting values and transferring those to students.
Benefits for the Institution
Surfacing hidden values of the institution.
Discovering enablers and blocks of the institution in practicing values
Institutional action plan on strengthening enablers & minimizing blocks towards values implementation.
Motivating teachers & staff in taking decisions within the institutional Values framework.
Facility for the institution to decide and declare their own values they value, which they can publicize.
Developing modules for transferring institutional values to students.
Creating an Institution culture based on Values.
Workshop salient features: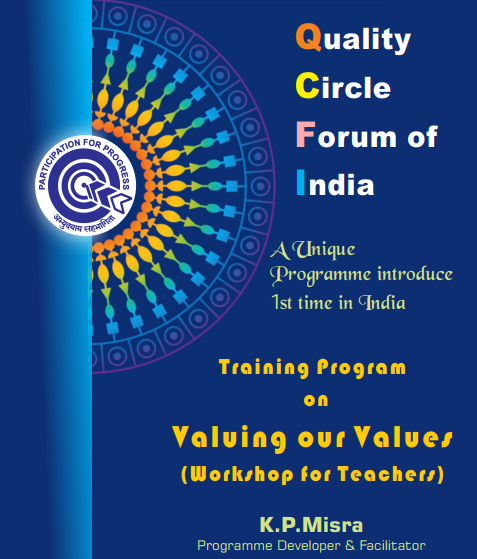 · Assessment based training
· Insights through self tests and exercise
· Participative program to make it interactive
· Motivational and inspirational inputs
· Case studies and real life experience sharing
· Methods of applying learning to practice
· Addressing queries and concerns
· Personal action plan for development
· Discussion Forums
About the Facilitator: K.P.Misra Profile
An entrepreneurial HR professional with four decades of multi industry, multi-location rich experience in the areas of HR, Training, Personnel, Industrial Relations, Legal, Safety, Security, Welfare, Education(Schools), TPM, WCM, Medical services & International Standards certifications.
Certified Trainer (Attitudinal), Behavioural Coach, Psycho Analyst, Values Facilitator, Job Analyst & Evaluator, International Standards Auditor & Tutor.
Trained more than 2,000 candidates in India and aboard-Egypt, Thailand & China on soft skills, 400 employees on orgn. /Inst. Values, Coached 150 employees.
Analysed and evaluated 600 jobs in India and abroad. Conducted ISO9001 Audits of schools.
President of school managing committee of Higher Secondary English medium schools for 11 years during service in Tata & Dalmia organizations.
Was former Vice President(HR &Admn.), Carbon Black business, Aditya Birla Group.
One of his core expertise is imparting training on values.
Tariff for in-house programme for Teachers:
Rs 12000/- per faculty
Travel Charges & taxes extra
For more info on the in-house training program, please contact qcfihq@qcfi.in or call 040-66311168, 66318068
For any query please contact:
Quality Circle Forum of India
306, 3rd Floor, Navketan Chambers, 62. SD Road, Secundrabad-500003.
Phone: 040-66311168, 66318068, 66316744, 27805660,
E-mail: qcfihq@qcfi.in; Website: www.qcfi.in; www.facebook.com/qcfiofficial