On 10th March 2020, Quality Circle Forum of India, Mysuru Chapter celebrated
International women's day at L&T training center, Mysuru. There were 60+ women participants from various industries, in & around Mysuru.
The program was well organized by QCFI Mysuru chapter team, under the leadership of
Dr. Muthukumar, Director, QCFI Mr. Krishna Kumar, Chairman, QCFI, Mysuru
Chapter.
Program started with welcome speech by Mr. Venkataram, Vice Chairman, QCFI,
Mysuru chapter, followed by lighting the lamp from chief guest, Smt. Manjula Manasa,
Advocate Ex-chairperson, Karnataka State Commission for Women, dignitaries
women participants.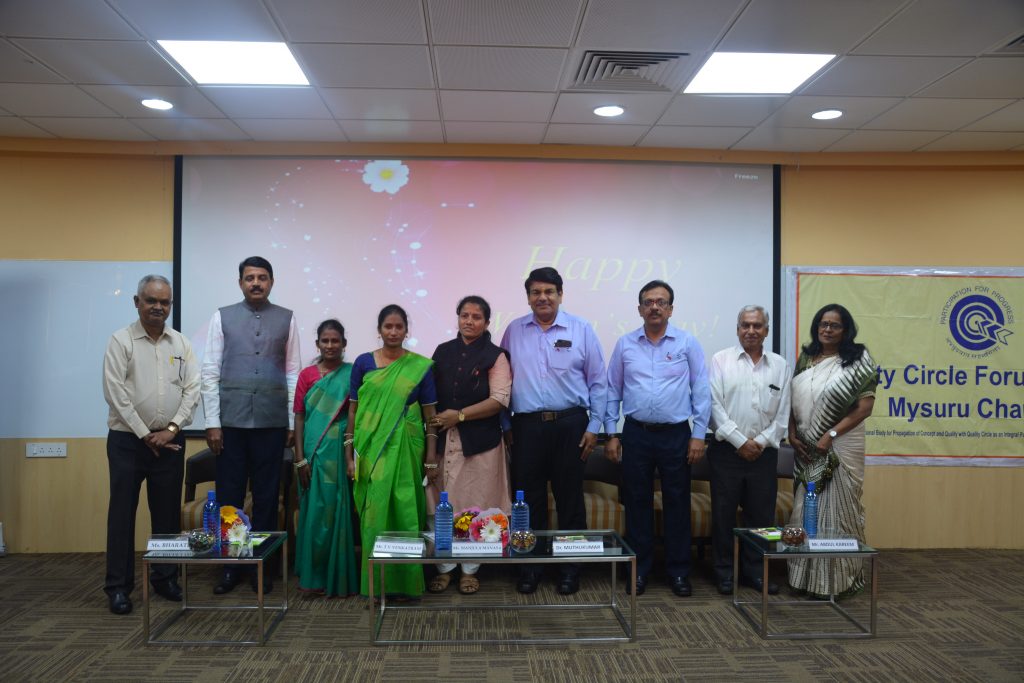 Dr. Muthukumar, Director, QCFI addressed the gathering, highlighted the statistics of
women empowerment in corporate world encouraged women to come forward for
higher positions in the organization.
As a occasion of International Women's day, QCFI Mysuru chapter awarded Change
Maker awards to Ms. Bhanumathi  Ms. Bharath, born by visually impaired and
struggled their whole life and mastered in Karnatic Hindustani Viduyth. Both studied in
Ranga Rao Memorial School for differently abled school at Mysuru learned music
under Pandit Puttaraja Gavayi Differently Able trust. Now, they are teaching around
4000 students in JSS School in Suttur. Ms. Bhanumathi, Ms. Bharathi sung
melodiously a Kannada song Ms. Bhanumathi shared her experience of life. Her
struggle of life inspired all some were literally in tears. There was standing ovation for both change makers.
Chief Guest Smt. Majula Manasa speech was Eye-opener for the society. She
expressed the actual facts of women status empowerment in our society &
encouraged the participants to come forward in the society. She concluded her speech
with singing a well known Kannada song on women.
Mr. Abdul Kareem, Secretary QCFI Mysuru Chapter, concluded the inauguration session
by vote of thanks. Mr. Wadiraj Kulkarni, Treasurer QCFI Mysuru was Master of
Ceremony.
Mr. Murali, Joint Secretary QCFI Mysuru chapter, organized whole event successfully
Mr. Harish from Ranga Rao Memorial School for differently abled school recognised
change makers, appraised to QCFI.
QCFI Mysuru chapter conducted whole day workshop on EachforEqual. Smt.
Rajalakshmi Agram Ramakrishna, Bengaluru successfully conducted this workshop &
inspired women on work-life balance, EachforEqual, personal/ professional/ happiness
action plan, concluded with quiz.