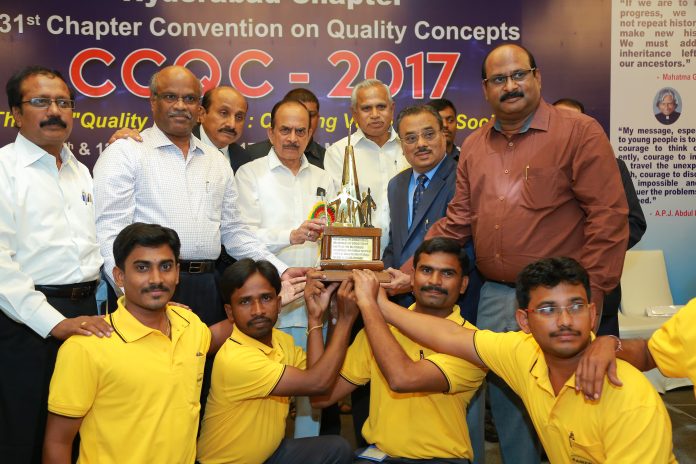 The valedictory function of 31st Convention of QCFI, Hyderabad Chapter was held on 12th September,2017 at 4 pm at Hotel Marigold, Greelands, Hyderabad. Shri Md. Mahamood Ali, Hon'ble Dy. CM of Telangana and Revenue, Relief & Rehabilitation, was the Chief Guest. Shri Paturi Sudhakar Reddy, chief whip in Telangana Legislative Council was the guest of honour. About 200 Circles participated in the Convention and were given awards based on their performance.
In his welcome address, Shri Ch. Balakrishna Rao, Chairman, QCFI-Hyderabad Chapter said that all the presentations were of very high quality.
The Hon'ble Dy. CM in his speech said that quality is very important in today's context. He said that Govt. will definitely support the endeavours of QCFI, Hyderabad Chapter. He further said that every project initiated by the Govt. of Telangana is aimed at improving the quality of life.
Shri Sudhakar Reddy in his speech said that QCFI-Hyderabad Chapter has rendered quality service continuously for more than 3 decades. This itself is a great achievement. He complemented all the participants and organizations for participating in this Convention. Both of them gave away awards to all the participating Quality Circles. The Best of Convention Award was given to Ramco Rangers Quality Circle of Ramco Cements, Jaggaiyapet.