6th National Conclave on '5S'
Theme: 5S for Cultural Transformation at Home,Workplace & New India.
For more information on this conclave download the brochure
Thank You
5S Conclave PhotoGallery
Invitation
Importance of Workplace Management in terms of 5S initiative is becoming more significant like never before in all walks of like in India. The performance excellence with sound foundation of 5S followed by improvement initiatives is best suited to the organizational culture. In fact "5S" is gateway to TQM.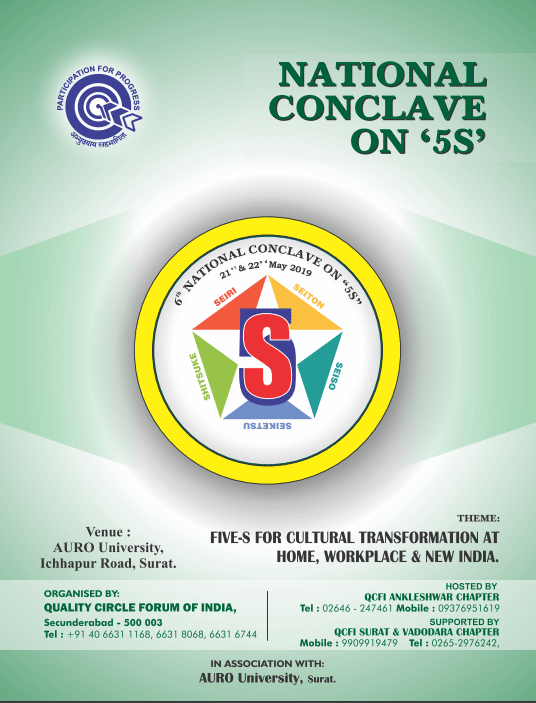 QCFI is also putting all their efforts for increase in awareness of "5S" and its implementation. 'Swachh Bharat Abhiyan' through 5S initiative, also has a role to play in developing India. We believe 5S is a silent informer of a organization's attitude to Quality. It tells more about the organization than any financial statement.
5S cell of QCFI – QCFI had formed an exclusive cell for propagating and promoting the implementation of 5S activities at the local level in all the regions consisting the following team members 1.Mr.B.Balakrishnan, 2.Mr.K.B.Bharati, 3.Mr.Rituraj Mehta 4.Mr.VKB Das 5.Mr.Vijay Krishna
Programme: 6th National Conclave on '5S' by Quality Circle Forum of India
Venue: AURO University, formerly AURO University of Hospitality and Management, is a private university located at Surat, Gujara.
Ichapur Road, Opp ONGC,
Next to Toyota,
Bhatpore, Limla, Gujarat 394510
Date: 21st & 22nd May, 2019
Fee Structure:
| | |
| --- | --- |
| Individual Delegates | 4000/- + GST |
| Kaizen Team (2 Delegates allowed per team) | 6000/- + GST |
| For Extra member of the team | 3000/- + GST |
| Student Category | 1000/- + GST |

Industrial Visit / Visit to Statue of Unity (Optional)
Date: 22nd May, 2019. Fee per participant Rs.1000/- + GST
* Industrial visit/ tour will be organized subjected to minimum 30 participants.
Conclave Coordinators
Mr.VKB Das Mob: 93923 86443
Ms Sudha Arun Mujumdar Mob: 98250 82230
For more information on this conclave download the brochure
Organised by
Quality Circle Forum of India
Secunderabad – 500 003
Tel: +91 40 6631 1168, 6631 8068
Email: training@qcfi.in
Hosted by QCFI Ankleshwar Chapter
Phone: 02646 – 247461 | Mobile: 09376951619
Supported by QCFI Surat Chapter
Mobile: 9909919479
QCFI Vadodara Chapter
Tel: 0265-2976242