It is our immense pleasure to announce an establishment of new wing "SKILL TRANSFORMATION WING" under the umbrella of Quality Circle Forum of India , Ankleshwar Chapter to develop skill of employees at every level meeting a need during present situation .
The objective of Skill Development is to create a professional empowered with the necessary and continuously upgraded skill and knowledge to ensure competitiveness in the dynamic business . It aims at increasing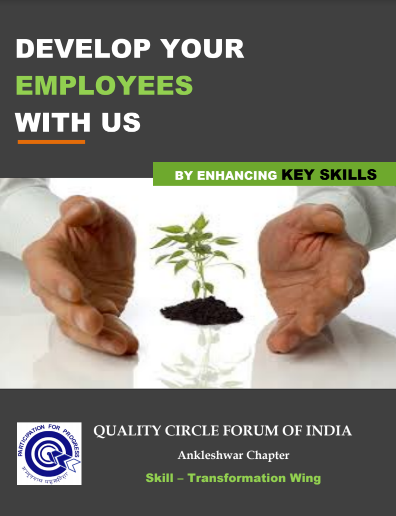 the productivity in the organised sectors . Skill Development is essential to address the opportunities and challenges to meet new demands of changing style of business and innovated technologies . Skill Development can help build a " virtuous circle " in which the quality and relevance of education and training fuels the innovation , investment , technological changes , enterprise development economic diversification and competitiveness .
For more information on Skill Transformation Wing Download Brochure
Request to contact for additional information .
With high regards ,
Dr. Milind Pathak ,
Joint Secretary and Faculty,
E-mail: niketan35@yahoo.co.in
Mobile no. : 9377434079
Mr.Milan Sheth ,
Governing Council Member and Faculty.
E-mail: milan_sheth1@yahoo.com
Mobile no. : 9879477357 / 9426995153
Quality Circle Forum of India ,
Ankleshwar Chapter