37th National Convention on Quality Concepts – 2023 from 4th to 7th January 2024 by QCFI HQ and is hosted by QCFI Nagpur Chapter in association with Shri Ramdeobaba College of Engineering and Management, Nagpur
January 4, 2024 @ 8:00 am

-

January 7, 2024 @ 6:30 pm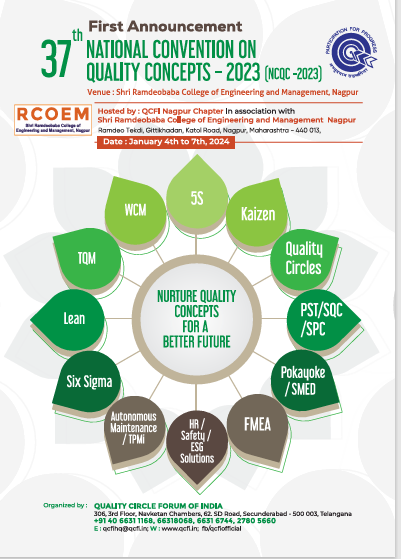 The President and the members of the Executive Board of QUALITY CIRCLE FORUM OF INDIA is pleased to invite you to the 37th National Convention on Quality Concepts (NCQC 2023) by QCFI and is hosted by QCFI Nagpur Chapter from 4th to 7th January, 2024 in association with Shri Ramdeobaba College of Engineering and Management, Nagpur is a much awaited annual event organised by the Quality Circle Forum of India (QCFI) with purpose of benchmarking and recognizing outstanding Improvement projects across the Nation.
View & Download NCQC 2023 First Announcement Brochure
The Convention Theme is "NURTURE QUALITY CONCEPTS FOR A BETTER FUTURE"
NCQC 2023 Venue:
Shri Ramdeobaba College of Engineering and Management, Nagpur
Ramdeo Tekdi, Gittikhadan, Katol Road, Nagpur, Maharashtra – 440 013
NCQC 2023 Important Dates:
Last date for receipt of Skit, Poem, Poster & Slogan: 30th November, 2023
Last date for receiving Team Registration & Case Studies: 15th December, 2023
Last date for Payment for Registered Teams: 15th December, 2023
Online Knowledge Test will be conducted in advance on 18th, 19th, 20th, 21st, 22nd, 23rd December 2023 depending on the team Quality Concept streams like QC, LQC, LSC, Allied (5S, Kaizen, TPM, WCM, SMED, Six Sigma or others) etc.,
NCQC 2023 Registration:
Note* NCQC 23 Team registrations should only be done online at https://qcfi.in/qcfihq using your organization QCFI membership login details. QCFI Membership and recommendation letter from your CCQC chapter/team certificate is mandatory for NCQC 23 registration and participation.
Please contact qcfihq@qcfi.in if you need any further assistance on Membership & NCQC 23 Participation.
Thanks and Regards
D K SRIVASTAVA
EXECUTIVE DIRECTOR