Dear Quality Leaders,
With immense pleasure & pride, we solicit your gracious presence in the 1st TQM-India Summit – 2023 by QCFI in association with QCFI Bengaluru Chapter & Dayananda Sagar College of Engineering on 7th October, 2023.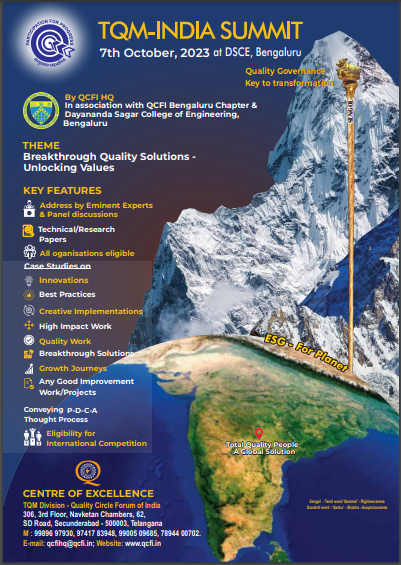 1st TQM-India Summit – 2023
Date: 7th October, 2023
Venue: Dayananda Sagar College of Engineering, Benguluru
View & Download convention brochure
With this premier event of the country, we are on the threshold of ushering a new era of collaborations for open / disruptive innovations ; and creation / replication of benchmarks across the sectors. The Summit creates synergy of Best Innovations / Best Practices / Success Stories / Systems & Strategies from the best of leaders / experts / thinkers from the entire spectrum of industries, institutions. The summit provides a premier networking platform for the accelerated growth of the country.
As a unique knowledge sharing platform, this summit also focuses on 'Technical Papers' from experts / industry breakthrough work/projects and promotes 'open innovation' for greater collaboration between industries and research institutions.
The convention theme is "Breakthrough Quality Solutions – Unlocking Values" and focuses on Quantum Value additions, Innovations and Quality approach laying due stress on structured thought process. It targets to bring together best practices, solutions from across sectors from the best leaders / performers / thinkers / experts!
QCFI is a one stop solution for all trainings and facilitation for senior, middle and frontline employees for all functional domain and has Centre of Excellence in operation with unique Quality Solutions for all types of industries / institutions.
This summit encourages all organisations across the nation to share their structured thought process viz. P-D-C-A; witness the successful TQM stories to get inspired and make a definite headway towards Total Quality Management Systems. We call upon all organization to come together to create synergy of collective potential to propel India's growth multi fold in shortest time & be part of the Indian – Quality – Movement.
Let this 1st TQM India Summit 2023 be a fulfilling premier event of the country in the pursuit of collective quantum growth.
Looking forward to your active participation of organizations/ teams
Registrations Open for TQM-India Summit 2023 at https://qcfi.in/qcfihq
TQM-India Summit 2023 Brochure link
Warm regards
Sunil Shrivastava
Convenor – TQM-India Summit 2023, &
Chief Operating Officer – TQM
QCFI-HQ India
Mobile – 7894400702